This is a Sponsored post written by me on behalf of Breyers Gelato Indulgences for SocialSpark. All opinions are 100% mine.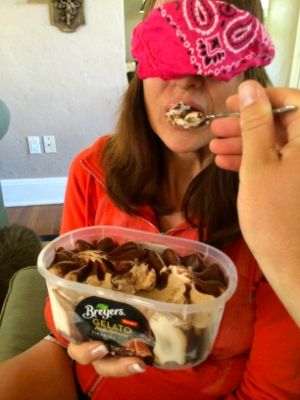 When you see the tab at the end of the evening, there's not much to love about a date night out. Driving in circles looking for a parking space, waiting for a table at an overpriced restaurant, the popcorn at the movie that costs as much as your ticket and you still have to pay the babysitter. YIKES! $100 for a date night out or less than $5 for a date night in? Tough choice. Really?
So, I've convinced you to try a date night in, but now you need a little help to make it special. No worries, The Budget Diet Girl has a plan for The Perfect Cheap Date Night at Home – it's a Breyers Gelato Taste Test and a Movie!
Breyers Gelato Indulgences Taste Test
Purchase Breyers Gelato Indulgences – Vanilla Caramel, Tiramisu and Triple Chocolate. These are about $5 each, but you won't be devouring all of it, so you'll have plenty for another decadent date night.
Put a blindfold on your date and feed them a spoonful of each flavor.
Have them rank the flavors from most favorite to least favorite.
Next,switch places and repeat step 2 and step 3.
Enjoy seeing if your gelato tastes are compatible!
Now, serve up a giant scoop of your favorite flavor and enjoy a movie.
Movie Time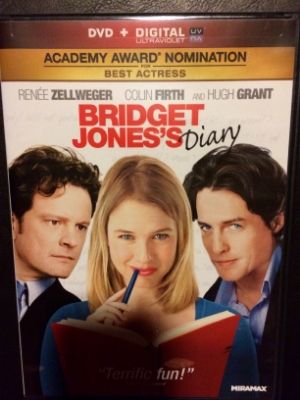 Stop by your local library and check out a movie for your date night. Need suggestions? I'm a little (OK a lot!) partial to Hugh Grant and Matthew McConauhghey movies when it comes to romantic comedies. My favs?
Love Actually
Notting Hill
Bridget Jones Diary
Failure to Launch
The Proposal
Tonight we chose Bridget Jones Diary…it seemed fitting since we were indulging in gelato straight out of the carton!
Curious about the results of our taste test?
And the winner is…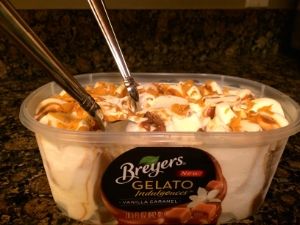 We both chose Vanilla Caramel as our favorite, but we were split on our #2. I chose Tiramisu, and my husband chose Triple Chocolate.
Have you tried Bryers Gelato Indulgences? If so, what is your favorite flavor?
Are you going to "invite" Breyers Gelato Indulgences to your next date night in? Please leave a comment to share your romantic cheap date night at home date night ideas.