This is a Sponsored post written by me on behalf of Nature's Care for SocialSpark. All opinions are 100% mine.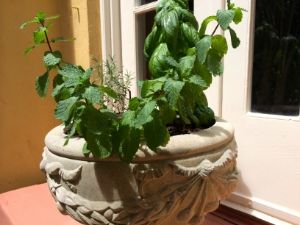 The City Girl Gardener (that's me!) has officially declared herself a container garden expert.
The City Girl Gardener has not a blade of grass in her backyard, but that didn't stop her from planting a container garden. She chose a pretty pot, perched it in a sunny spot and planted basil, rosemary and mint.
Today…The City Girl Gardener Harvests Her Bounty!
Her herbs are growing like weeds, and she'd like to think it's because of her green thumb, but she has to give some credit to Nature's Care. It's a new natural line of Scotts gardening products that are perfect for edible gardening.
Thanks to Nature's Care Organic Potting Soil with water conserve, The City Girl Gardener never had to worry about under-watering or over-watering her precious plants.
Her plants apparently loved Nature's Care Organic and Natural Vegetable, Fruit and Flower food because she has an abundance of herbs!
She's topped her Italian dishes with shreds of fresh basil and added sprigs of mint to tall glasses of iced tea, but those herbs just keep producing!
What to do? What to do?
Search for recipes using fresh mint, of course!
The Food Network had the perfect concoction that's quick and easy to serve as a summer salad…
Watermelon Topped with Feta and Mint
Ingredients:
Watermelon (rinds removed and cut into triangles)
Feta Cheese Crumbles
Fresh Mint, shredded
Instructions:
Top each watermelon triangle with feta cheese and fresh mint.
Enjoy the "explosion" of summer's flavors in your mouth
Just imagine, if you have a yard for gardening…I bet Nature's Care would help you grow a gigantic watermelon!
Now that the City Girl Gardener is feeling accomplished, she just smiles when she passes by those teeny-tiny overpriced herbs at the grocery.
What are your favorite summer recipes using fresh from the garden produce?