My mother taught me that prices at the store can vary widely, depending on the time of the year. She told me it was best to buy produce in season when they are cheapest and freshest. I follow her advice when grocery shopping since I want my family to enjoy meals that are delicious, healthy, and affordable. What I discovered is that there are fruits and vegetables available for each month and season of the year. Here's a list I came up with for the best times to buy fruits and vegetables.
This guide is quite long, so we provided anchor links to help you jump to sections that interest you. You can also choose to read this article chronologically.
For more variety, I also included items that are not very popular but still meet my criteria for flavor, nutrition, and budget. There's also a recipe for each month featuring the fruits and vegetables in the list. So what's fresh and affordable each month?
Winter
Depending on where you live, the winter months can be the most difficult time to find fresh produce. As a little girl, I remember certain things being luxuries in January but becoming staples in July, and vice versa. After researching this article, I no longer need to wonder, and I hope you won't either.
December Fruits and Vegetables
December Recipe
Chestnut Salad with Pomegranate Dressing by @kitchconfidante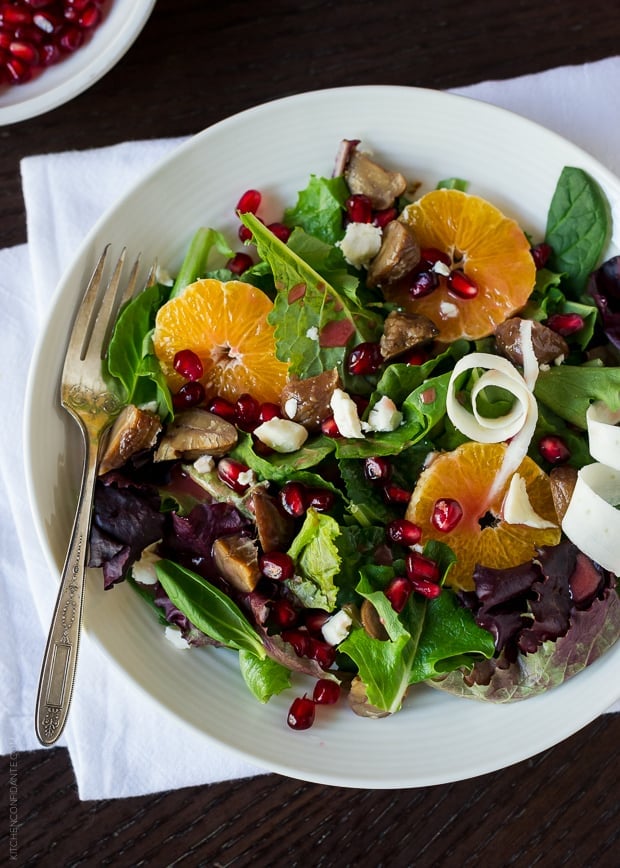 Shopping Tips
Click here to go back to the top and see the list of anchor links.
January Fruits and Vegetables
Spinach

One of my favorite greens, spinach makes an excellent salad. You can also add it to many dishes. This crisp vegetable is quite hardy and it is able to survive the dark, cold winters.

Green Onions

An excellent seasoning for many savory dishes, green onions are a crop which comes into season in January. Throw them into a salad with some spinach and have yourself a taste of summer in the New Year!

Mustard Greens

A popular veggie in the South, mustard greens reach the peak of their season in January. I love mustard greens cooked with ham steak and black eyed peas, a dish my grandmother used to make every New Year's.

Bok Choy

An excellent addition to stir-fry, bok choy is an Asian vegetable hardy enough to survive the cold snaps of winter.

Hass Avocado

I may have a slight obsession with avocado. They're a great addition to smoothies, and different varieties are fresh throughout the year. The Hass avocado is newly in season in January and makes a great guacamole.

Grapefruit

These tangy, juicy citrus fruits are an excellent breakfast option. A bite of these in January will send your taste buds on a pleasant vacation straight to a tropical beach.

Kiwi

Kiwi is a fairly hardy fruit that comes into season at various points in the year, and January is one of those times. Green like spring, kiwi is an excellent addition to any fruit salad.

Passion Fruit

As with kiwi, passion fruit tends to come into season throughout the year. One of those times is January, and let's be honest—anything sweet, fresh, and delicious in January is more than welcome!

Fennel

I'm not the biggest fan of fennel myself; I've never cared for licorice, and the taste of fennel reminds me of it. However, it does go well with salads, roasted meats, and such.

Kumquat

Interestingly, the name of this Asian fruit means, roughly, "gold orange" in China, making its festival in Dade City, Florida all the more appropriate. These odd-looking fruits are meant to be eaten whole, but also make an excellent preserve.
January Recipe
Asian Spinach Salad by @cinnamonkitchn
Image source: cinnamonspiceandeverythingnice.com
Shopping Tips
Click here to go back to the top and see the list of anchor links.
February Fruits and Vegetables
Clementines

Seedless, juicy, and sweet, these citrus fruits come into season just in the nick of time. They are the perfect on-the-go snacks for kids.

Asparagus

Asparagus comes into season in February, lasting well into the spring and early summer.

Celery

One of my children's favorite snacks is Ants-on-a-Log, the classic celery stick with peanut butter and raisins. Now I know when to get celery at its freshest for this healthy snack.

Radish

Although I've never cared for radishes myself, after researching this list and learning of the many benefits radishes have to offer, I may have to rethink that come February.

Taro Root

To be honest, this is one vegetable I'd never even heard of before. Taro root is, as the name implies, a root vegetable which is popular in Japanese cooking. It is usually harvested in February.

Parsnips

Although they look suspiciously like carrots, this root vegetable has a texture and flavor all its own. A biennial plant, parsnips are perfect in stews. They are available from February through early summer.

Strawberry

Did you know that strawberries are not actually berries? No matter what they are, these popular red fruits always marked the coming of spring when I was little. They grow best during months with cool nights and warm days, like February.

Rhubarb

Rhubarb grew in patches around my childhood home, and I remember picking the plant to eat raw while wandering the woods with my siblings. February is when this tart fruit begins to show up, and you can bet I'll be first in line to buy it all up.

Mandarins

As winter gives way to spring, citrus fruits are an excellent source of vitamin C after those long, sunless days. Mandarins are ready for harvest in February. They make an excellent addition to fruit smoothies.

Pomelo

Another excellent citrus too often overlooked, this cousin of the grapefruit is less tart than its more popular counterpart. It makes for an amazing substitute in all kinds of citrus-based recipes.
February Recipe
Cardamom Citrus Fruit Salad by @simplyrecipes
Image source:
simplyrecipes.com
Shopping Tips
Click here to go back to the top and see the list of anchor links.
Spring
Spring: the harbinger of summer, the promise of adventure and sunshine. In northern states, the snow begins to melt and leaves begin to blossom on trees again. As the cold of winter slowly disappears, you begin to have more choices for fresh produce.
March Fruits and Vegetables
Artichoke

Artichokes look like little grenades and they are quite versatile. Dips, stews, seafood dishes, and more are complemented by this Mediterranean native. What better cuisine to welcome the end of winter than a taste of the Mediterranean?

Broccoli

A favorite side dish, broccoli is chock full of the vitamin C we're all lacking come spring. No wonder it's fresh in March!

Beets

Available throughout the year in various climates, March is an excellent time for beets in most regions.

Mushrooms

Technically fungi, mushrooms first start showing up as the snow leaves the ground in March.

Peas

What type of peas you get depends on what time of year you harvest them. Peas harvested in March, when it's still chilly outside, aren't as sweet as peas from later harvests, but still just as yummy!

Mint

Technically an herb, mint is a pretty traditional spring flavor. From mint jelly to mint Girl Scout cookies, this March plant is a favorite worldwide.

Cherimoya

An ancient fruit which is tricky to grow and produce, the cherimoya is well worth the struggle. Eaten raw or baked in a pie, make the most of this creamy fruit by buying at the start of the season.

Pineapples

Although this popular fruit can be found throughout the year, pineapples are at their peak from March to July.

Guava

Guava is a popular fruit for smoothies, juices, jellies, and more. Requiring a tropical climate to grow, it can be found in season from March onward through the warmest months of the year.

Lemons

Yet another citrus fruit finds its way onto our list. As yellow as the sunshine breaking through the winter skies, lemons are a hardy fruit popular for its tangy juices.
March Recipe
Sunny Citrus Smoothie by @wholefoods
Image source:
wholefoodsmarket.com
Shopping Tips
Click here to go back to the top and see the list of anchor links.
April Fruits and Vegetables
Fava Beans

If you're as much of a fan of Mediterranean food as my family is, you're probably familiar with the little green gems known as fava beans. Also popular among Middle Eastern cuisine, these legumes come into season in April. They are an excellent side dish for lamb.

Mizuna

A Japanese green, mizuna is commonly found in baby lettuce mixes. Coming into season in April, mizuna would make a tasty addition to your next salad.

Broccoli Rabe

Contrary to what the name of this vegetable may have you thinking, broccoli rabe is actually more closely related to the turnip than it is to broccoli. At its peak during this time, broccoli rabe is best prepared similarly to mustard greens.

Fiddlehead

Named for its appearance, which puts many in mind of the end of a violin, fiddleheads are immature ferns. Appearing in early spring, they taste similar to green beans.

Morels

Not to be confused with life's guiding principles (morals), morels are a species of edible mushrooms which have a honeycomb appearance. Like other mushrooms, they begin making an appearance in the spring months.

Nettles

Nettles get a bad rep as an itchy weed, but don't write them off the menu just yet. Packed full of nutrients, this spring treat will add a rich, earthy flavor to any soup or stew dish.

Arugula

Upon finding out that arugula is also called the rocket plant, my son promptly begged me to buy as much as I could. So, parents, good news! Just tell them these nutritional, peppery greens are rockets and they'll eat them up.

Dandelion Greens

Dandelions are more than just a bright yellow flower, it turns out. Their leaves make a sweet addition to your favorite spring salads, which coincides perfectly with their peak.

Green Garlic

Green garlic is the young garlic that appears in early spring, before the buds we're more familiar with show up. With a less spicy flavor than its more common counterpart, green garlic can be used raw or cooked.

Nopal

Found on the prickly pear cactus, nopales are popular in Mexican cuisine. Making an appearance in April, the nopal is very similar to okra.
April Recipe
Artichoke Heart Salad with Roasted Beets by @cabountiful
Image source:
sugarcrafter.net
Shopping Tips
Click here to go back to the top and see the list of anchor links.
May Fruits and Vegetables
May Recipe
Butter Lettuce Salad by @FoodiePhysician
Shopping Tips
Click here to go back to the top and see the list of anchor links.
Summer
Summer is always my favorite time of year. Most of my favorite fruits and veggies are finally in season, especially berries! The fruits and vegetables listed here are probably more familiar to you, compared with the other seasons.
June Fruits and Vegetables
Figs

This sweet treat is available during the summer months, with its season starting in June.

Eggplant

An acquired taste, eggplant is available at its freshest starting in June.

Summer Tomatoes

I love tomatoes in salads, sauces, or sliced with a little salt and pepper. Yum! The best time to get them fresh is in June.

Red Onion

Red onions are a savory addition to many dishes. They are in season during the summer.

Green Beans

Delicious straight from the source, green beans reach their season at the beginning of summer.

Loganberries

A hybrid of blackberry and raspberry developed in 1880, loganberries are only available two months of the year, starting in June.

Boysenberries

The symbol of Knott's Berry Farm, the boysenberry reaches its season in June.

Blueberries

One of the few berries native to North America, the popular blueberry reaches season during the early summer months.

Nectarines

Closely related to peaches, nectarines are available in the summer months, with their season beginning in June.

Watermelon

Every year in June, my area has a watermelon festival. No wonder, as this refreshing treat reaches the peak of its harvest season this month.
June Recipe
Grilled Chicken and Eggplant Stacks with Fire-Roasted Tomato Sauce by @RachaelRayMag
Shopping Tips
Click here to go back to the top and see the list of anchor links.
July Fruits and Vegetables
Burdock

Popular in Asian cultures, this root vegetable can be eaten like a potato or substituted for artichokes.

Okra

Gumbo is only complete with okra. Buy it fresh during the summer for optimal flavor and nutrition.

Sweet Peppers

More commonly called bell peppers, these crunchy vegetables make a wonderful addition to your summer plate.

Cucumbers

The cool, refreshing taste of summer arrives in the form of the cucumber, which reaches its season now.

Summer Squash

Summer squash is a name that covers a wide variety of squashes. These include zucchini, which grows best during the warm months of summer.

Gooseberries

Available from May to August, gooseberries reach their peak in July and are at their best for picking then.

Currants

A somewhat sour fruit that may require a touch of sweetness from honey or sugar, currants reach their season in the hot summer months.

Grapes

Possibly the oldest cultivated fruit in the world, grapes are available at their freshest from July to November.

Peacotum

A hybrid between a peach, apricot, and plum, these sweet fruits are available only in July and August.

Plums

A sweet fruit which makes an excellent jam, plums are available during the heat of summer.
July Recipe
Gooseberry and Currant Crumble by @washingtonpost
Shopping Tips
Click here to go back to the top and see the list of anchor links.
August Fruits and Vegetables
August Recipe
Old Fashioned Potato Salad by @Allrecipes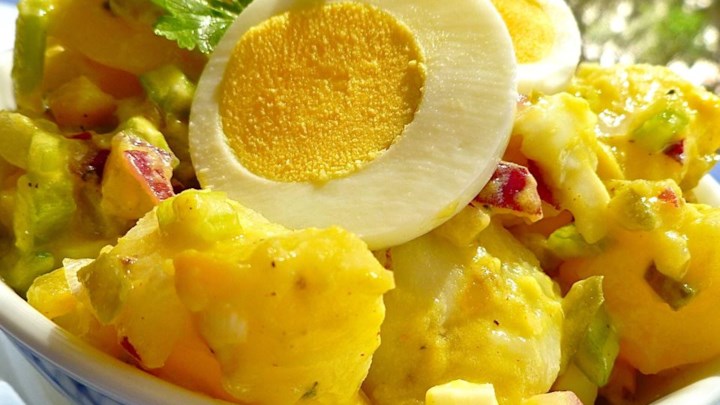 Shopping Tips
Click here to go back to the top and see the list of anchor links.
Fall
Bring on the pumpkin and apples! The official harvest season is here and with it some of our favorite holiday flavors.
September Fruits and Vegetables
September Recipe
Wilted Kale with Horseradish Yogurt Sauce by @mindbodygreen
Image source: mindbodygreen.com
Shopping Tips
Click here to go back to the top and see the list of anchor links.
October Fruits and Vegetables
Jicama

Also called the Mexican yam, this vegetable makes a crunchy addition to fall salads.

Bitter Melon

Not to be confused with the similar looking cucumber, bitter melon is a bit of an acquired taste; the name is a giveaway. But it's very nutritious.

Walnuts

The oldest nut known to man, walnuts are only in season this month.

Star Fruit

Named for its shape, star fruit is available now. I suggest trying it if you can—it's delicious!

Asian Pears

Juicy and crisp, Asian pears are just a bit sweet.

Almonds

Harvested in the early fall, almonds can be found year-round in farmer's markets.

Pumpkins

No October food list could be complete without pumpkin! Head to your nearest pumpkin patch to find the freshest available.

Limes

Key limes are probably the most popular of the limes out there. Lucky for us, they're available now.

Chicory

Technically an herb, chicory is available now to lend a unique flavor to your fall dishes.

Olives

My kids call olives "finger caps" and turn them into little finger puppets. I prefer to eat them in pasta. And right now is a great time to get them at their freshest.
October Recipe
Pumpkin Corn Soup with Ginger Lime Cream by @nytfood
Image source:
iamafoodblog.com
Shopping Tips
Click here to go back to the top and see the list of anchor links.
November Fruits and Vegetables
Sweet Potatoes

I can't remember a Thanksgiving without sweet potatoes. No wonder, as these tubers are harvested during this season.

Brussels Sprouts

My kids are not the biggest fans of Brussels sprouts, but now that I know when to get them at their freshest, we may just give them a second chance.

Feijoas

Also called pineapple guava, these sweet tropical fruits are only around in November and December.

Tatsoi

A mustard flavored green, tatsoi are ready now for you to try in your next soup.

Yacon

Also called the Peruvian ground apple, yacons are similar in flavor to jicamas.

Comice Pears

A large, round pear with a short neck, Comice pears come into season in November and December.

Citron

A citrus fruit used mainly for its zest, citron is available for your holiday baking now.

Winter Squash

Acorn, butternut, carnival, and other squashes fall under the catch-all title of winter squash, a type which is only available during the cooler months.

Cabbages

Cabbage is at its best during this time of year, making it a go-to ingredient for many holiday tables.

Carrots

A versatile root vegetable, carrots make an excellent addition to many meals.
November Recipe
Classic Candied Sweet Potatoes by @Allrecipes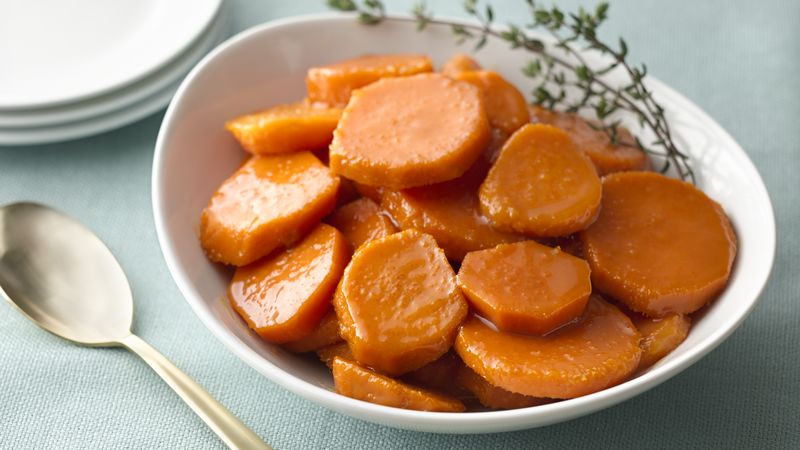 Shopping Tips
Click here to go back to the top and see the list of anchor links.
There are more produce items than what I've listed here, of course, but I hope this is a good starting point for you. Diet is such an important part of our lives and can have a profound impact on our health. That's why it's so important to know what food items are in season, to get the most of their nutrients as possible. Plus, you'll avoid falling in a rut when meal planning, as you have new ingredients to use each season. Tell us what you thought of this list below, and don't forget to share with your friends and family.
ALSO READ: The Definite Guide to Eating Healthy for Less Than $400 a Month (Family of 4)