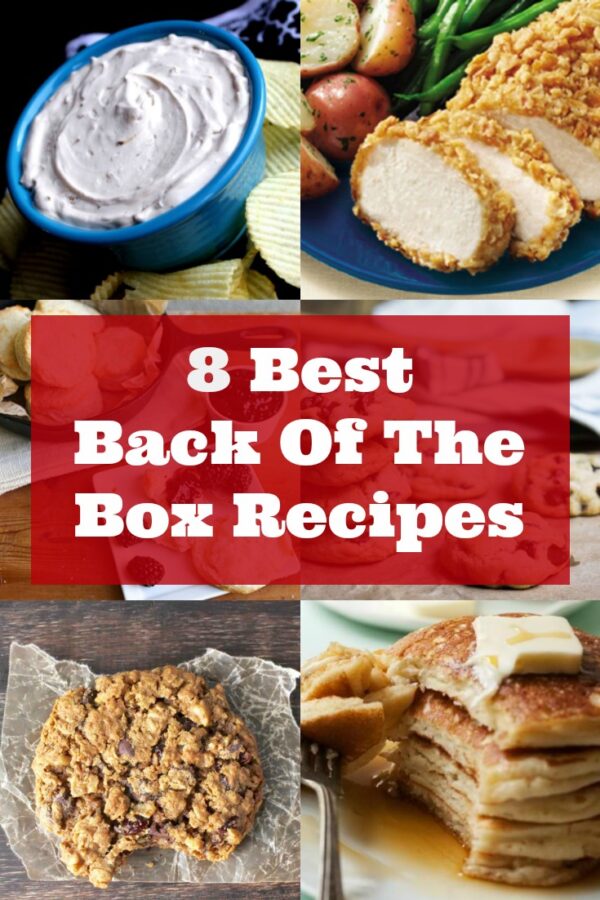 Please tell me that I'm not the only one who never remembers that I need to make a dish for a get-together until I'm already at the grocery store. When this happens — more often than I'd like to admit — the easiest solution is to grab a nearby box and scan the back for a tasty-looking recipe. Of course, in that moment, it's hard to know whether a recipe will be a winner. The better plan is to have a running knowledge of which brands feature the best recipes. Lucky for you, I've helped us both out by rounding up the eight best back of the box recipes.
A Go-To Dinner Idea

Image source: The Daily Meal

With this classic chicken dish, you get the crispiness of fried chicken straight from your oven. As The Daily Meal points out, this recipe is a good way to use up your leftover Crispy Fried Onions (@thedailymeal) from the holidays. This meal is good enough, though, that you'll want to keep the ingredients on hand year-round. Find the directions on canisters of Crispy Fried Onions or on the FRENCH'S website (@Frenchs).

An Oatmeal-Raisin Duo

Image Source: Jays Baking Me Crazy

Who knows oats better than Quaker? It should come as no surprise, then, that Quaker's Vanishing Oatmeal Raisin Cookies is in this list by The Kitchn (@thekitchn),. You can find the recipe on an oatmeal canister, but if you hop over to the Quaker Oats (@Quaker) site for it, you can also watch a quick video tutorial on how to make the cookies. To put your own twist on a batch, Better Recipes (@betterrecipes) suggests adding nuts, chocolate chips, or other dried fruit.

A Biscuit for Any Meal

Image Source: Homesteading

Fluffy, floury biscuits work with just about any meal. Slather them with jam for breakfast, pair them with soup for lunch, and served them alongside meat and veggies at dinner. As Obsev (@obsevstudios) says, the Old-Fashioned Biscuits recipe from the Clabber Girl Baking Powder Can brings back memories of childhood. Buttered tops lend just a touch of indulgence to this mealtime staple. Grab the recipe from a can of Clabber Girl or on the Clabber Girl site (@clabbergirl).

A Snap, Crackle, and Pop Snack

Image Source: Two Sisters Crafting

It's hard to argue with a recipe that's been known and loved for over 70 years like the classic Rice Krispie Treat. According to The Cookie Elf, this snack was first published on a Rice Krispies box in 1941. The recipe is available from Rice Krispies (@ricekrispies) and on Rice Krispies boxes.

A Stack of Pancakes

Image source: Betty Crocker

When I think of back of the box recipes, Bisquick is the first product that comes to mind. The boxes are regularly covered in recipes and I grew up on their pancakes. In fact, Bisquick is so proud of their pancake recipe that they have published it in every one of their cookbooks for more than 60 years. With just Bisquick baking mix, milk, and eggs, you can whip up a stack of golden pancakes for breakfast in no time. The recipe is available on Bisquik boxes or from Betty Crocker (@BettyCrocker).

A Cheesecake to Impress

Image Source: BHG

I once made a cheesecake from a recipe I found in a church cookbook. It was an unmitigated disaster. The only cheesecake recipes I trust now are from the pros, like the folks at PHILADELPHIA. They really know what they're doing, as their Classic Cheesecake is just about perfect as-is. Bon Appetit (@bonappetit) notes that you can dress up the basic recipe with different flavors. Find the recipe on PHILADELPHIA packages or on the Kraft website (@kraftfoods).

Chips' Favorite Dip

Image Source: Jamie Cooks It Up

Plain potato chips are my favorite, and the ridged kind are just right for dipping in the concoction that Zester Daily (@ZesterDaily) calls California Dip. The official name, however, is Classic Onion Dip. It requires just two ingredients — Lipton Recipe Secrets Onion Soup Mix and sour cream. You can have it party-ready with just a couple of minutes' work, but TODAY (@TODAYshow) suggests making it a day ahead of time for the best flavor and texture. Check out the recipe on the Lipton Kitchens site (@LiptonRecipe) or pick up a package of Onion Soup Mix.

The Classic Cookie

Image Source: Mon Petit Four

The foodies at Epicurious (@Epicurious) typically know what they're talking about. They say that the very best back of the box recipe out there is Nestle's recipe for Toll House Chocolate Chip Cookies. I have to agree with them on this one. Delish (@DelishDotCom) tells us that the recipe was created by accident, but it was an accident that changed desserts forever. My personal favorite thing about these cookies is when you can taste just the tiniest hint of the recipe's one teaspoon of salt mixed in with all the rich, gooey sweetness of the plentiful chocolate chips. You'll find the whole recipe on Nestle's Very Best Baking site (@Nestle) or on a bag of Nestle morsels. It uses a full 12-ounce bag of semi-sweet chocolate chips, so what's not to like?
Is your mouth watering yet? I know that mine is. Now I can head straight to the right products in the grocery store the next time I need a reliable standby dish to serve to friends or family. I'm always looking for new ideas, so be sure to drop a note below about your very favorite back of the box recipes.