Healthy eating and saving money.
For many, these concepts are not associated in any way. Why is that?
The food industry focuses on meals that are cheap to produce and easy to sell: high-calorie, low-nutrient, convenient fast food. But highly processed foods can affect our health in numerous ways. They make us fat, ill, and incapable of performing some basic movements. A lot of people are getting sick without knowing that their diet is the cause. Yet the main excuse for not eating a healthy diet is this: To eat healthy, you have to pay more. This assumption is wrong on so many levels.
Food is the foundation for a healthy body. The awful truth is, people are used to habits that destroy their health. Take a look at this in-depth health report from foodinsight.org to see the average food consumption and overall health conditions of the US population from 18-80 years old for the last several years. Sadly, people don't seem to care about what they consume on a daily basis. Instead, they think that when it comes to food, the easier, the better.
Let's break the misconception that you have to pay a lot to eat healthy. The Definite Guide to Eating Healthy for Less Than $400 a Month features nutritious meals that do not break the bank, with links to the latest nutritional research. Note that the calculations are for an average person in his or her thirties (USDA separates ten classes by age), while taking into account current trends in food intake. The Definite Guide to Eating Healthy for Less Than $400 a Month will surely help you choose frugal and healthy options the next time you enter the grocery store.
Number of Meals
Researchers agree that you should eat less but more often during the day. An average of five meals per day is ideal: breakfast, lunch, dinner, and two snacks. The recipes here are for four persons, so be sure to adjust them for your family's needs. The actual days are not listed so you can mix and match the suggested meals.
Food
What kinds of food make up a delicious yet affordable meal? The food staples listed under each meal are high in nutritional value and low in calories, so this guide works even if you are on a diet or a weight-loss regime. Health benefits and current prices are listed for the ingredients in each recipe.
Recipes
Each featured food item comes with a recommended recipe link. These recipes meet three criteria: they are healthy, affordable, and delicious. Aside from the main ingredient, recipes include other foods in this list. This helps you purchase food in bulk, which is usually cheaper compared with buying in smaller quantities. Take note that the recipes are only suggestions; feel free to experiment with other ways to prepare these staples. If you decide to change something, don't forget to check the prices and, more importantly, the health benefits of your recipes.
Prices
Prices are mostly based on data from the United States Department of Agriculture -Agricultural Marketing Service (USDA-AMS), which shows the national average in as many stores as possible. These prices are based on data for March 2016. Walmart prices are shown if the product was unavailable in the USDA-AMS website. This company was chosen because it has stores all around the US with similar prices. The prices from Walmart represent data from the beginning of April 2016. According to these sources and the information on the packaging, the price of a product is listed either per weight or per item.
A table at the end of each meal section shows a monthly budget projection based on the recipes and the cost of each ingredient. The amount of food that is eaten, and therefore, the sum of money being spent, is computed for one person plus 50%. Note that the monthly projection is subjective since serving sizes may vary because of individual preferences.
How to Eat Healthy for Less Than $400 a Month – Breakfast
Considered the most important meal of the day, breakfast should not be taken lightly as it determines your energy level for the rest of the day. Here are seven healthy and easy-to-prepare breakfast ideas to help you start your day right.
Eggs
Eggs are a popular breakfast food since they are quite easy to prepare. Rich in protein and choline, eggs are also quite versatile and are essential to a lot of dishes worldwide. While there were concerns in the past over their cholesterol content, the newest studies show that eggs are actually good for you.
Add vegetables to eggs for a boost in both health and taste. Asparagus soldiers with a soft-boiled egg is a great recipe since you can also get the many health benefits of this delicious vegetable. You can buy large white eggs for an average price of $0.97 per dozen and asparagus for $2.64 a pound (or 14-18 asparagus spears).
Bananas
Bananas are excellent for breakfast since they provide our bodies with vitamin B6, vitamin C, potassium and other important nutrients. The best thing about bananas is that they are available all year round. The next great thing is that they come in their own biodegradable packaging.
Cinnamon porridge with banana & berries is a sweet and satisfying way to eat this common fruit. You will be happy to hear that this recipe features strawberries, Greek yogurt and oatmeal; these delicious ingredients are also featured in other sections of this guide. Bananas cost an average of $0.53 per pound (three medium bananas) while strawberries are $2.38 per pound.
Wheat Germ
Wheat germ is one of the most popular breakfast options in the United States and not without reason. Although fairly small (only 2.5% of a wheat kernel) the wheat germ is full of nutrients and many vital compounds. This is because the wheat germ serves as the foundation of a new plant.
This banana, wheat germ, and oats recipe combines several healthy ingredients into one meal, allowing you to save money even further. You can purchase wheat germ for $2.49 per 12oz.
Greek Yogurt
Since it was introduced in the US, Greek yogurt has propelled itself into the very top of healthy food choices. It offers all of the benefits of dairy products, but has more protein than regular yogurt. Cucumbers with Greek yogurt ranch dip are a savory change from the usual sweet breakfast meals. This dip works well with almost any raw veggie, but crunchy vitamin rich cucumbers and minced garlic are a great combo.
The average price of Greek yogurt is $3.89 per 32oz. Cucumbers are $0.72 per piece and garlic is sold for $3.77 per pound. Bear in mind that a pound of garlic has around 60 cloves or 8 bulbs, far more than you'll ever need in a month.
Peanut Butter
Peanut butter is a popular spread that has great health benefits. A Harvard article shows that peanut butter has high levels of fiber and potassium. Furthermore, it reduces the risk of type 2 diabetes.
Aside from the usual sandwiches, you can enjoy this gooey ingredient with this recipe for peanut butter energy bites. This meal is nutritious, easy to prepare and has flax seed and oats. Crunchy peanut butter can be bought in your nearest Walmart store for $5.73 (40 oz).
Oats
When we speak of oats, we are usually talking about oatmeal or processed oat grains. Oatmeal can be eaten in numerous ways, cooked or uncooked. Oats have a distinct flavor because they are roasted after harvest, a process that doesn't remove the nutritional value of this whole grain. There are different kinds to choose from: instant, steel-cut, or rolled (also known as old-fashioned oatmeal).
Oatmeal is quite easy to prepare: just boil for a few minutes or soak in milk overnight. If you would like to mix things up a bit, try this oatmeal with dried fruit and pistachios recipe. Old-fashioned oatmeal can be found in the nearest Walmart; the price is $3.98 for 42 oz.
Tea
Seriously consider switching to tea for your morning caffeine fix. While it may not pack the same punch as coffee, tea has more health benefits, such as weight loss and hydration. Start your day with a cup of green tea since studies show that it helps prevent cancer.
Tea is the second most widely consumed drink in the world, next only to water. Follow the Brits and have tea with milk in the afternoon, served with yummy oatmeal-chocolate chip cookies. Green tea can be purchased at Walmart stores for $3.65 (40 tea bags). The average price of milk is around $3.23 per gallon.
Monthly Projection:
Name
Price
Monthly
Eggs
$0.97/dozen
$1.94
Asparagus
$2.64/pound
$7.92
Bananas
$0.53/pound
$4.24
Strawberries
$2.38/pound
$4.76
Wheat germ
$2.49/12 oz.
$4.98
Greek yogurt
$3.89/32 oz.
$7.78
Cucumbers
$0.72/item
$5.76
Peanut butter
$3.98/42 oz.
$3.98
Green tea
$3.65/40 tea bags
$7.30
Milk
$3.23/gallon
$12.92
$61.58
How to Eat Healthy for Less Than $400 a Month – Snacks
Frequent snacking helps you manage hunger and prevents you from overeating during mealtimes. However, people often snack on unhealthy, salty or deep-fried food. This guide offers healthier snack options that are inexpensive, tasty and filling.
Apples
An apple is the perfect "fast food" because it is cheap and available in most stores. Not only are apples delicious, they are also low in calories and rich in antioxidants. A study shows that apples can help battle chronic diseases.
Mix things up a bit and try making apple sandwiches with peanut butter, oats and raisins. A combination of red and green apples gives you a charming and delicious snack. Red Delicious apples are sold for $1.31 on average per pound.
Almonds
Rich with healthy unsaturated fats (50% of its total mass) and with the highest levels of protein, calcium and vitamin E of all tree nuts, almonds certainly deserve to be a top snack. Check out this study about the unbelievable spectrum of almond health benefits.
Stores often sell roasted almonds that are ready to eat. You can also buy them raw and experiment with different flavors, like this recipe for almonds with smoked paprika. Unsalted roasted almonds go for $9.99 a pound, while raw almonds are $8.99 a pound at thenutbox.com.
Celery
Celery is not just a salad ingredient; this vegetable is a refreshing snack when eaten on its own. Rich in vitamin K, vitamin A and potassium, celery can be served raw or cooked. There is more and more evidence that celery has hepatoprotective properties – it safeguards the liver.
Satisfy your munchies with crunchy celery sticks dipped in hummus. Be careful about your serving size, since hummus is high in calories. According to the USDA, celery is worth $1.25 per piece on average and hummus can be bought for $1.98 at Walmart.
Avocados
This healthy fruit is often found in South American dishes and is loaded with healthy fats, fibers, and a plethora of vitamins. Avocado helps decrease the risk of obesity, diabetes, and heart diseases. This fruit also enhances weight loss, boosts the immune system, and helps regenerate skin and hair.
Some people enjoy the flavor of fresh avocado, but it might taste odd for others. Luckily, there are hundreds of recipes for this superb fruit. For a savory and healthy snack, try this avocado egg salad cup recipe. According to the Hass Avocado Board, avocado costs $0.86 per unit on average.
Yams
Thanks to globalization, supermarkets now offer a variety of exotic foods year-round. However, shoppers are often intimidated by unfamiliar produce like yam, a vegetable stuffed with a B-complex group of vitamins as well as minerals.
But this unassuming vegetable is worth a try! Yam is cheap at $2.37 for a 40 oz can at Walmart. Slice yams and bake them in the oven to make delicious yam fries. For a cold dish, you can prepare a healthy yam salad.
Waffles
Waffles are probably a surprising addition in a list of healthy snacks. However, whole-grain waffles have nutritional value and can be bought at $2.98 at Walmart.
For a healthy version of waffles, try making a carrot cake waffle sandwich. Aside from whole-grain waffles, you will need low-fat cream cheese, carrots, raisins (3.76 and up for 20 oz), walnuts (7.49 and up for 16 oz), and maple syrup ($2.18 and up).
English Muffins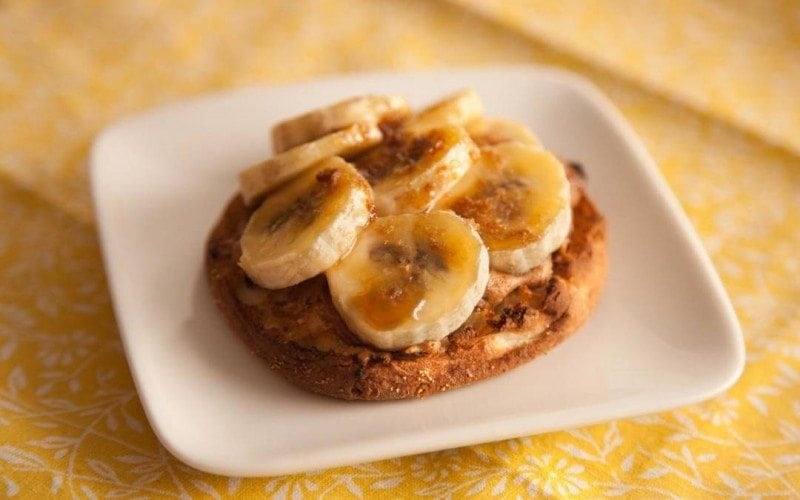 Bread products are often considered unhealthy because they have a ton of carbohydrates and highly processed ingredients. An English muffin is an exception to this since it is high in fiber. Fiber keeps body fats at a low level, thus helping the immune and digestive systems function properly.
Check out this recipe for a healthy English muffin snack that has peanut butter and half a banana. A pack of whole-wheat English Muffins (6 pieces) costs $2.62 from Walmart.
Monthly Projection:
Name
Price
Monthly
Apples
$1.31/pound
$9.17
Almonds
$9.99 / pound
$9.99
Celery
$1.25/ per item
$3.75
Avocado
$0.86/ per item
$4.30
Yam
$2.37/40 oz.
$4.74
Waffles
$2.98/ 10 waffles
$5.96
Hummus
$1.98/ 10 waffles
$3.96
English muffins
$2.62/ 6 muffins
$7.86
Maple syrup
$2.18/24 oz
$2.18
Raisins
$3.76/20 oz
$3.76
Walnuts
$7.49/16 oz
$7.49
$63.16
How to Eat Healthy for Less Than $400 a Month – Lunch
Ideally, lunch should be a medium-sized meal and not so heavy that you end up sleepy the whole afternoon. Here are seven affordable and healthy options for lunch.
Rice
Rice is a common type of grain that comes with numerous health benefits. Rice is cholesterol-free and is a great source of energy. It's easy to cook and it's cheap, making rice the frugal choice when making lunch.
Speedy chicken risotto only takes 25 minutes to cook and is a one-dish meal. Rice sells for around $2.98 per 80 oz and should be stored in dry, airtight containers.
Sweet Potatoes
Sweet potatoes are one of the most underrated healthy foods. They are rich in potassium, carotene, B6 vitamin and other healthy nutrients, and delicious as well.
Sweet potatoes and spinach is a low-budget recipe that will make your taste buds tingle. You will also get the benefits of vitamin-rich and cancer-preventing spinach. Sweet potatoes can be found at $0.88 per pound on average while spinach comes at $2.47 for 8 oz.
Chicken
Chicken is a must-have for any frugal grocery list. Fast food stores have given chicken a bad reputation, but this meat is not limited to being deep fried with a ton of breading. In truth, chicken offers many nutritional benefits.
Old-fashioned chicken and dumplings is an iconic comfort food that incorporates this versatile ingredient. Carrots, celery, and peas add color and flavor to this hearty dish. A whole chicken can be bought for around $1.65 per pound. Carrots sell for $0.54 per pound, celery is $0.74 per pound while peas are $2.78 for 15 oz.
Mackerel
Fish is an excellent source of protein and healthy fats. Omega 3 fatty acids are essential for proper brain function and maintaining blood pressure and helps prevent cardiovascular diseases.
Aside from the usual tuna and salmon, why not try eating mackerel? Besides the multiple health benefits you get from mackerel, you can cook it easily like in this grilled mackerel recipe. You can order mackerel for $11.98 per fish.
Beans
Beans have a reputation for making you bloated and gassy, but consider making them a part of your diet. People who eat beans on a regular basis actually have fewer issues with digestive or bowel problems, according to Cynthia Sass, MHP, RD. Use dried instead of canned beans, as canned food may contain harmful chemicals, such as preservatives and BPA.
Beans come in dozens of varieties; they contain healthy nutrients like vitamin B, calcium, potassium and zinc. Keep in mind that cooking them takes time, as shown by this recipe for preparing dried beans. Beans are available in local grocery stores for $1.49 per pound.
Salmon
Fish is extremely healthy and salmon is no exception. Vitamin B12, vitamin D, selenium, and niacin are just some of the nutrients that can be found in salmon. Another great thing about salmon is that it has the highest protein content among seafood.
Salmon is a great main course especially when paired with vegetables like in this delicious recipe, poached salmon asparagus with wild garlic mayonnaise. You can get salmon fillets for $11.95 per pound.
Cauliflower
Cauliflower is a crunchy vegetable that can be part of your frugal lunch menu. Avoid overcooking this vegetable to get the most of its nutritional benefits. Studies have also shown that cauliflower has cancer prevention capabilities.
Cauliflower can be prepared in a number of ways, such as this roasted garlic cauliflower recipe. It is usually sold per head with an average price of $2.41 each. This recipe also includes grated Parmesan cheese that can be found in Walmart stores for $2.98 for 8 oz.
Monthly Projection:
| | | |
| --- | --- | --- |
| Name | Price | Monthly |
| Rice | $2.98/80oz | $2.98 |
| Sweet potatoes | $0.88/pound | $3.52 |
| Spinach | $2.48/8oz | $9.92 |
| Chicken | $1.655/pound | $8.275 |
| Carrots | $0.54/pound | $1.08 |
| Peas | $2.78/15oz | $2.78 |
| Salmon | $11.95/pound | $23.90 |
| Beans | $1.49/pound | $5.96 |
| Parmesan cheese (grated) | $2.98/8oz. | $2.98 |
| Cauliflower | $2.41/each | $4.82 |
| Mackerel | $11.98/per fish (1.5 pounds) | $23.96 |
| | | $90.175 |
How to Eat Healthy for Less Than $400 a Month – Dinner
After a hard day's work, nothing feels better than a tasty, healthy dinner paired with a glass of red wine. For a surprisingly low budget, prepare fantastic dinners from the following healthy ingredients.
Oranges
Oranges are one of the most popular citrus fruits. Juicy and pulpy, oranges have antioxidants that boost the immune system. This fruit helps fill your nutritional needs and is also known to prevent cancer and various heart diseases. A great source of vitamin C and fiber, oranges are ideal for dessert and snacks as well.
Chicken pasta with orange is a refreshing dish that uses this fruit and other healthy ingredients in this guide. Oranges are quite cheap at $0.92 per pound.
Chicken Breasts
Chicken breasts are rich in proteins and vitamins, low on calories and very easy to prepare. It's not surprising that chicken breasts are featured in over a million recipes worldwide. The health benefits of chicken meat include boosting metabolism, preventing bone loss, and providing the stress-relieving amino acid tryptophan.
Go with a simple yet very tasty three-ingredient baked chicken breasts recipe. This dish is perfect for busy nights and is a healthier alternative to ordering takeout. Chicken breasts are available for $1.60 per pound.
Broccoli
Broccoli is a mainstay of a healthy diet since it contains vitamins (A, K, B-complex), minerals (iron, zinc) and other nutrients. The impact that broccoli has on human health is impressive; it fights cancer, prevents arthritis, regulates blood pressure, prevents diabetes, and it is good for the heart and kidneys too.
This cheesy broccoli potato mash is an easy-to-make dish that the whole family will love. You can buy broccoli at $1.54 / crown cut, per pound. Besides broccoli, this recipe contains nonfat milk, potatoes and Fontina cheese. As an alternative, you can use Gouda cheese which costs $6.99 for 8 oz.
Potatoes
Potatoes aren't a surprise item in a budget monthly plan for healthy nutrition. Complex carbohydrates that quickly fuel our bodies with energy, potassium, protein, vitamin C, niacin and manganese are the benefits that potatoes bring to the table (literally).
There are numerous ways to prepare this root crop without resorting to deep-fried fries or salty chips. Here's a recipe that uses the same ingredients as the chicken breasts dish – broccoli potato soup. You can get 5 pounds of potatoes for $2.39.
Tuna Fish
Tuna is popular because of its low price, great flavor and superb impact on health. This fish is rich in omega-3 fatty acids, selenium, and vitamins B and D. Like all items on our healthy budget plan, tuna can be prepared in various ways.
Here's an interesting recipe- potato, corn & tuna patties. Besides tuna and potato, you'll need celery, a carrot, 100 grams of corn ( $2.80 for 4 cans, 15 oz/can at Walmart), parsley, egg yolk, breadcrumbs, and olive oil. Tuna is cheap at $2.96 for a 4-can pack (5 oz / can) in Walmart.
Carrots
Carrots are considered a superfood. They contain a lot of beta-carotene which is responsible for the supply of vitamin A in our body. Carrots affect our health in numerous ways: they can help improve vision and helps lessen the risk of developing certain types of cancer.
With an average price of $1.32 per pound, carrots are very affordable. You can eat them raw or cook them in a variety of ways, like this caramelized spiced carrots recipe. For this dish, you'll need onions, olive oil ($3.96 / 17oz at Walmart), some sugar, chili powder, and nutmeg.
Brown Rice
The difference between processed and whole grains is huge. Brown rice is twice as nutrient-dense as white rice, and can help reduce the risk of type 2 diabetes. Brown rice is a healthy staple that can make up the bulk of food intake.
Rice is affordable (5 lbs. of brown rice is around $3.30 at Walmart), and combined with fish you get a tasty and healthy meal. As we already have tuna in our list, why not make a delicious tuna and brown rice salad? You can even bring the leftovers to school or to the office the next day.
Monthly Projection:
Name
Price
Monthly
Oranges
$0.92/pound
$9.2
Chicken Breasts
$1.60/pound
$12.8
Broccoli
$1.54/crown
$3.08
Potatoes
$2.39/5 pounds
$2.39
Tuna Fish
$2.96/20 oz.
$5.92
Carrots
$1.32/pound
$10.56
Brown rice
$3.30/5 pounds
$3.30
Olive oil
$3.96/17 oz.
$3.96
Corn
$2.80/15oz.
$5.60
Gouda
$6.99/8 oz.
$6.99
$63.80
Is it really possible to eat healthy for under $400 a month?
It's time to do the math for this guide's recommended food intake. Ready?
Breakfast: $61.58
Snacks: $63.16
Lunch: $90.17
Dinner: $63.80
Sum: $278.71
It turns out that based on USDA and Walmart prices, you can have a healthy diet for way below $400. It is very possible to eat delicious healthy meals without spending half of your salary. You can even spend the remaining $121.29 on new cookware or a fancy meal at a restaurant. And if you purchase seasonal fruits and vegetables, you can save even more money.
The Definite Guide to Eating Healthy for Less Than $400 a Month proves that it is definitely possible to eat healthy under $400 a month.

Share this post with friends and other naysayers who claim that it isn't possible. Now, it's up to you to use the information in this guide and be on your way to a healthier lifestyle.