This is a Sponsored post written by me on behalf of Nature's Care for SocialSpark. All opinions are 100% mine.
Dreaming of a summer garden?
Savoring delcious meals with fresh from the garden ingredients?
No yard? No problem. Learn how to grow herbs and vegetables in containers by following these 6 easy steps:
Choose Your Pots – As long as they have drain holes, anything goes! Be creative and think beyond the basic terra cotta pot…wagons, buckets and even old toilets work well.
Find the Sun – Look for an area on your deck or patio that gets at least 6 hours of sun.
Add the Soil – Try Nature's Care Organic Potting Soil with Water Conserve because it prevents you from underwatering or overwatering which is really important in a container garden.
Time to Plant – You can start with seeds or start with small plants. Seeds are cheaper, but you'll wait longer to enjoy your crop. Ideal herbs and vegetables for containers are basil, oregano, rosemary, mint, dill, thyme, cilantro, chives, lettuce and peppers. When you visit your garden center, you'll discover that more and more vegetable plants are labeled "ideal for containers."
Feed Your Plants – Nature's Care Organic and Natural Vegetable, Fruit and Flower Food is like an all-you-can eat buffet for your plants because it feeds for up to 2 months!
Remember to Water!
​Take a Look!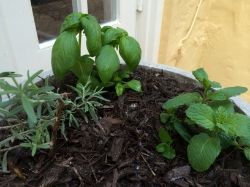 I'm feeling like quite the accomplished gardener thank's to a little help from Nature's Care. Take a look at my herb container garden…I wish you could smell the rosemary, basil and mint. I'm looking forward to a tall glass of iced tea with a sprig of fresh mint to go along with my Simple Summer Pasta that's bursting with fresh basil and tomatoes. Who knows, maybe I'll try planting tomatoes too!
Simple Summer Pasta Recipe
1/2 cup loosely packed basil leaves, chopped
1 pint grape tomatoes, halved
4 cloves garlic, minced
1/4 cup olive oil
8 oz. of your favorite pasta
2 oz. cream cheese, softened
In a medium bowl, combine basil, tomatoes, garlic and olive oil. Let sit at room temperature for 3 – 8 hours.
Cook pasta according to package directions.
Drain pasta and return to pot.
With the heat on low, stir in cream cheese until combined.
Stir in the basil mixture and serve.
Serves 6.
What will you make with your freshly grown herbs and vegetables?