This is a Sponsored post written by me on behalf of Dollar General for SocialSpark. All opinions are 100% mine.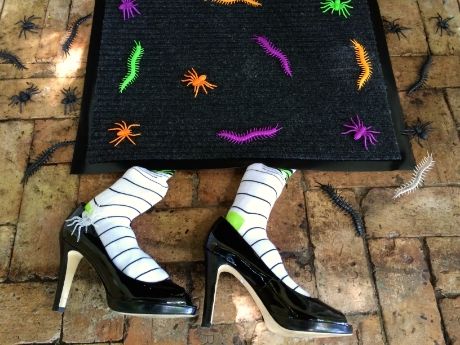 The stores and catalogs are filled with fabulous Halloween decorations, and they can be tempting until you take a look at the price tag! So…how does The Budget Diet Girl do spooky and spectacular on a shoestring budget? She does the Dollar General Halloween Hack!
What the heck is that?
The #DGHalloween Hack starts by getting inspired by a pricey Halloween decoration, and then creating a DIY version with Dollar General supplies. Halloween at Dollar General is amazing with an abundance of items for just $1.
Recently, The Budget Diet Girl fell in love with a Halloween doormat until she saw the $40 price tag! What did she do? She was inspired, and she was motivated to create her own spooky and spectacular doormat; and that's exactly what she did after making an $8 purchase from Dollar General.
Easy Homemade Halloween Doormat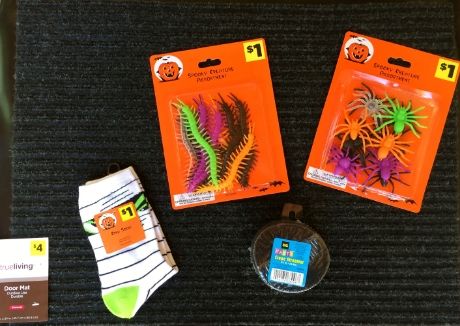 Supplies:
doormat ($4 at Dollar General)
rubber spiders and worms ($1 each at Dollar General)
hot glue gun (in my craft closet)
Halloween socks ($1 from Dollar General)
old washcloths or rags (in my rag bag)
black pumps or any "witchy" looking shoe (I borrowed these from my teenage daughter)
crepe paper ($1 from Dollar General)
Directions:
Use hot glue gun to attach the spooky creature assortment to the doormat.
Stuff Halloween socks with old washcloths or rags.
Put the stuffed socks in the black pumps.
Slip the top of the socks under the doormat.
Complete your spooky Halloween door decor by taping crepe paper streamers to your door frame.
Now that you know the secret to spooky and spectacular on a shoestring budget.