There's no such thing as a free lunch. Or a free dog, for that matter.
Just like children, pets are expensive. However, just as you can raise a child on a budget, you can also raise a pet the same way. Many people believe they need more money than they do to keep a pet around, so the family pet is often the first expense cut from the budget in hard times. It doesn't have to be that way, though. In the interest of keeping your family from facing that heartbreaking choice, I've put together this Ultimate Guide to Having a Pet on a Budget, so your furbaby can stay right where he belongs: with you.
Saving on (and for) Your Pet's Health
Just like you, your pet needs to stay healthy. This usually involves annual vet visits, a healthy diet, and plenty of exercise. Vet visits and food can take a good chunk out of a budget, and many a desperate pet owner has found themselves up a creek without a paddle. Let's break these down and talk about how you can give your furbaby the best care possible without breaking your budget.
Vet Visits

Vet bills can often be rather costly, hovering around $50 for a regular pet visit and into the hundreds of dollars in an emergency. What's a loving pet owner to do? As with human medical care, there are options, if you know where to look:

Does Fluffy need a slightly more costly visit to the vet? Try a veterinarian school for reduced prices.
Ask your vet if they offer discounts.
If Fluffy is in dire need of unaffordable care, ask for help from a charity organization.
Get Fido's prescriptions at a lower price through places like Pet Care Rx.
Watch for specials. Just like your doctor may offer discounted prices at certain times of the year, a vet's office likely will too.
Compare, compare, compare! Call around and ask various offices for the price lists.

There are preventive measures you can take as well to reduce your beloved pet's likelihood of needing costly medical care. These steps include spaying or neutering your pet, getting yearly wellness exams, and safety proofing your home for your pet just as you would your child.

Feeding

Believe it or not, the right brand of food can make a big difference in Fluffy's overall health. You can talk to your vet about what your specific furbaby needs in terms of nutrients and vitamins, and how much food they should get at one time. Following your vet's recommendations may help cut down on Fluffy's chances of becoming obese, thus saving you money.

Exercise

Just as exercising helps keep you in good health, the same is true for Fido. It's also one of the best, least expensive ways you can help avoid costly vet expenses. Exercise keeps your beloved pet in shape, and may even have a positive impact on behavioral issues.
Money Saving Ideas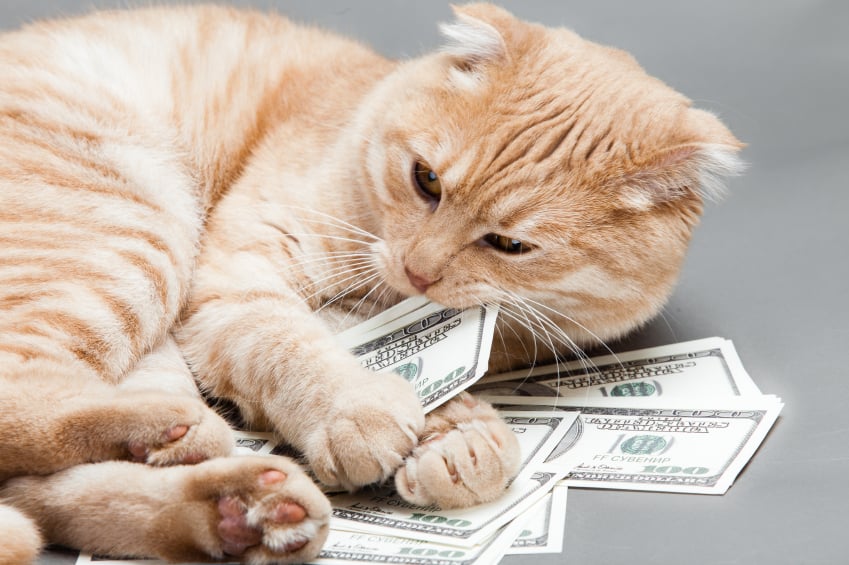 Of course, medical bills aren't the only expense piling up for your furbaby. Just like your children, your pet needs things to keep him active, food, and other various items throughout his life. How can you possibly make your pet's varying needs into your budget?
Shopping

Toys, bowls, leashes, food…the expenses for the average pet add up quickly. I know many people who have opted out of getting a pet, or had to give up their pet entirely because they simply couldn't afford the recurring expenses. We'll get into what you can do in case of dire financial emergency later, but for those whose budgets are simply tight, these shopping tips will likely help your budget remain pet-friendly:

Shop online. You'll save gas this way, and you might find free or reduced shipping prices to go with the online savings codes available.
Buy in bulk. It might make you cringe to spend $100 on the 50 pound bag of food this month, but when little Fido is set with food for the next few months, your wallet will thank you.
Avoid buying from the vet. Ask for their recommendation so you know what's best for your furbaby, but you'll likely find a better price elsewhere.

Emergency Funds

We're pretty big on emergency funds over here. It's best to be prepared, after all.

For your pet, however, you're going to want to start an entirely new emergency fund. You don't want to take money out of your house repairs fund for Lassie's surgery only to have the roof spring a leak two weeks later, after all. Instead, once you decide to get a pet but before you actually pick your new furry friend up, begin putting money aside in a special fund.

Breed-Specific Foresight

Whether you have a dog, a cat, a gerbil, or a reptilian pet, your new BFF is as unique as you are. Certain breeds of animals are more prone to diseases such as hip dysplasia, allergies, or even blindness. Knowing what diseases your pet may be genetically predisposed to can help you plan for future expenditures related to his care.
To Buy or Not to Buy?
So we've covered that buying online or in bulk can help you save money, but do you really need to buy things? There's a good chance a lot of what your pet will need, you can find in far more budget-friendly arenas.
Repurpose

Have your little ones outgrown the baby gate? Don't toss it – use it to keep your little furbaby out of carpeted areas during house or litter training. You don't need to buy Fluffy her own bowls, either. Just repurpose an old soup bowl or some ancient tupperware. Make an old sweater into Fluffy's new bed.

Second-Hand It

Perhaps your pet comes to you years after your little ones became big kids, and you don't have much that you can repurpose for Lassie. No worries – yard sales and second hand websites are here to help! Many humane societies have stores attached to them with good condition second hand pet items in them, and you can often find these items at a yard sale, as well.

Make Social Media Work for Your Pet

Whether Fido needs an unexpected trip to the vet, or you're a new owner in need of immediate supplies and advice, social media can help. Put yourself out there and ask for advice. Explain your situation and ask for pointers and/or gently used pet items.
How to Get It Free
Cheap is great. Free is better. As always, be cautious when scouring the internet for free items, and take a friend with if you are meeting up with a stranger to pick up free items you found online.
Freecycle and Other Free Stuff Sites

Just as there are websites you can get free or reduced price children's items, there are sites that give away pet supplies. Sites include:

Follow the Samples

Stocking up on samples can save you a ton of money as time goes by. Food samples, pet medicine samples, and flea shampoo samples may make the difference in your budget. Going straight to the manufacturer's website might be your best shot for this, although some websites like the ones we listed above may also occasionally offer free samples. Your vet's office may also give out samples of medications, foods, or even dental care items now and then as well.

Charities

When you're so broke, you're robbing Peter to pay Paul, you may think there's no way you can keep your pet with you. This is the point at which many people decide to give up their four legged friends altogether. This can often have devastating emotional effects on both owner and pet, and may turn out to have been unnecessary. I actually gave up a dog myself once during a time of financial stress. Not two weeks after I gave him up, I was on my feet again and couldn't get him back. In the interest of saving others that heartache, if you find yourself in that position, try one of these charity ideas to tide you over before giving up your furry friend:

If you or a loved one are a senior citizen receiving help from Meals On Wheels, a number of those programs now also provide pet food. You shouldn't have to give up your best friend when hard times hit. I hope these charities help keep your family intact.
DIY For Your BFF
Image source: noten-animals.com
We strongly encourage DIY everything here. Not only is it a money saving goldmine, nothing says "I love you" like DIY toys, clothes, and more. You'll be amazed at all the projects you can do for your furbaby!
DIY Food

Before attempting this, please discuss your pet's individual and breed-specific nutritional needs with your veterinarian. Make sure you are aware of any foods your individual pet is allergic to, as well as what a pet should never be fed such as chocolate and, surprisingly, avocado.

Once you're certain you know what your pet needs, DIY pet food is surprisingly no more difficult to make than homemade baby food. For example, Fido will need something with protein, fats, carbohydrates, and essential fatty acids. A typical recipe to get him all he needs could contain ground turkey, brown rice, olive oil, baby spinach, peas, and carrots. You most likely have those ingredients in your cupboards and freezer right now.

DIY Toys

Pets loved to be entertained just as much as people do. There's no need to break the bank for them, though. You most likely have plenty of items laying around the house that can quickly become Fluffy's new favorite toy with just a few changes. Old t-shirts twisted up and tied through a few old tennis balls will quickly become her new favorite chew toy, and old socks filled with rice can lead to hours of fun as a make-shift ball.

DIY Miscellaneous Items

Food and toys are pretty easy to make at home and can save a bundle on a pretty regular basis. Surely, though, there's nothing else you can do at home yourself? I assure you, my friend, you can!

Groom your pet yourself. No one said your pup has to have the breed specific haircut.
Brush your pet's teeth. Fluffy might fight you on it, but Fido is usually pretty good about it. This is a great way to avoid dental issues, and to spot them early if they do occur.
Give your pet a weekly at home exam. Look for skin flakes, scabs, lumps, or bumps, just as you would for yourself.
Other Ideas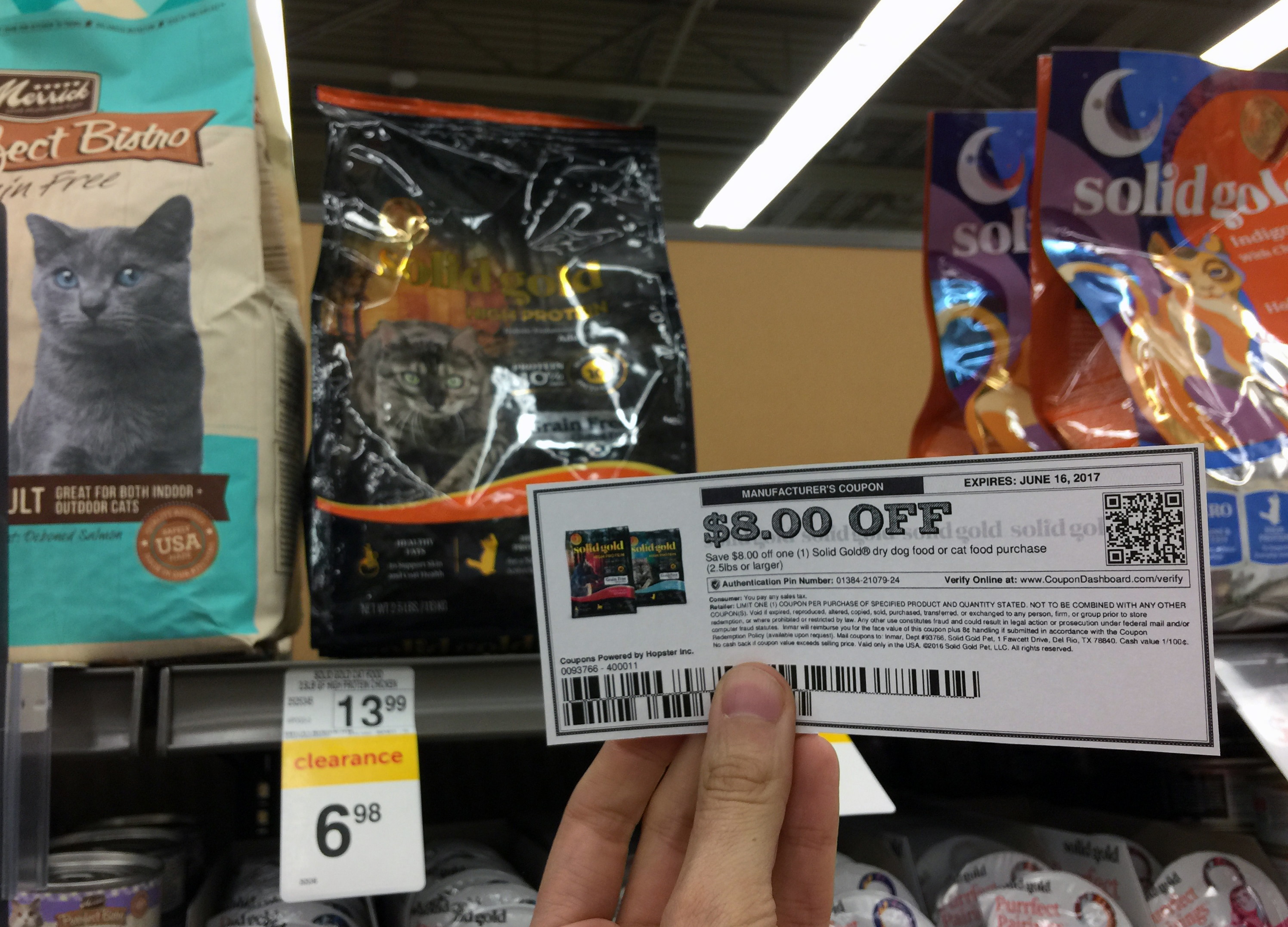 It seems there are as many ways to save money on your pet as there are to save money on just about anything else in your life! By this point, we've covered just about everything. There are, however, a few other ideas you can take into account to get discounts and deals on various items you'll need for your pet.
Manufacturer's Coupons

As you move into life with your pet, you'll find brands both you and he love. Often, if you sign up for the company's newsletter, you'll also receive coupons in the mail. You can check out their websites, too.

Rewards Points

Like many stores, pet stores now often offer rewards programs if you sign up for their cards. You can use these points for discounts in store or online. In some cases, you may find that certain items earn you more points when you buy them, which can lead to bigger and better discounts at a faster rate for you.

Subscriptions Save

If you prefer to order online, you may find that the sites you use will allow you to arrange for regular deliveries of things like food and litter. Most likely, you'll be able to get a discounted rate going this route. The most popular of these sites is Wag.com, which is now an affiliate of Amazon.
Things You Won't Need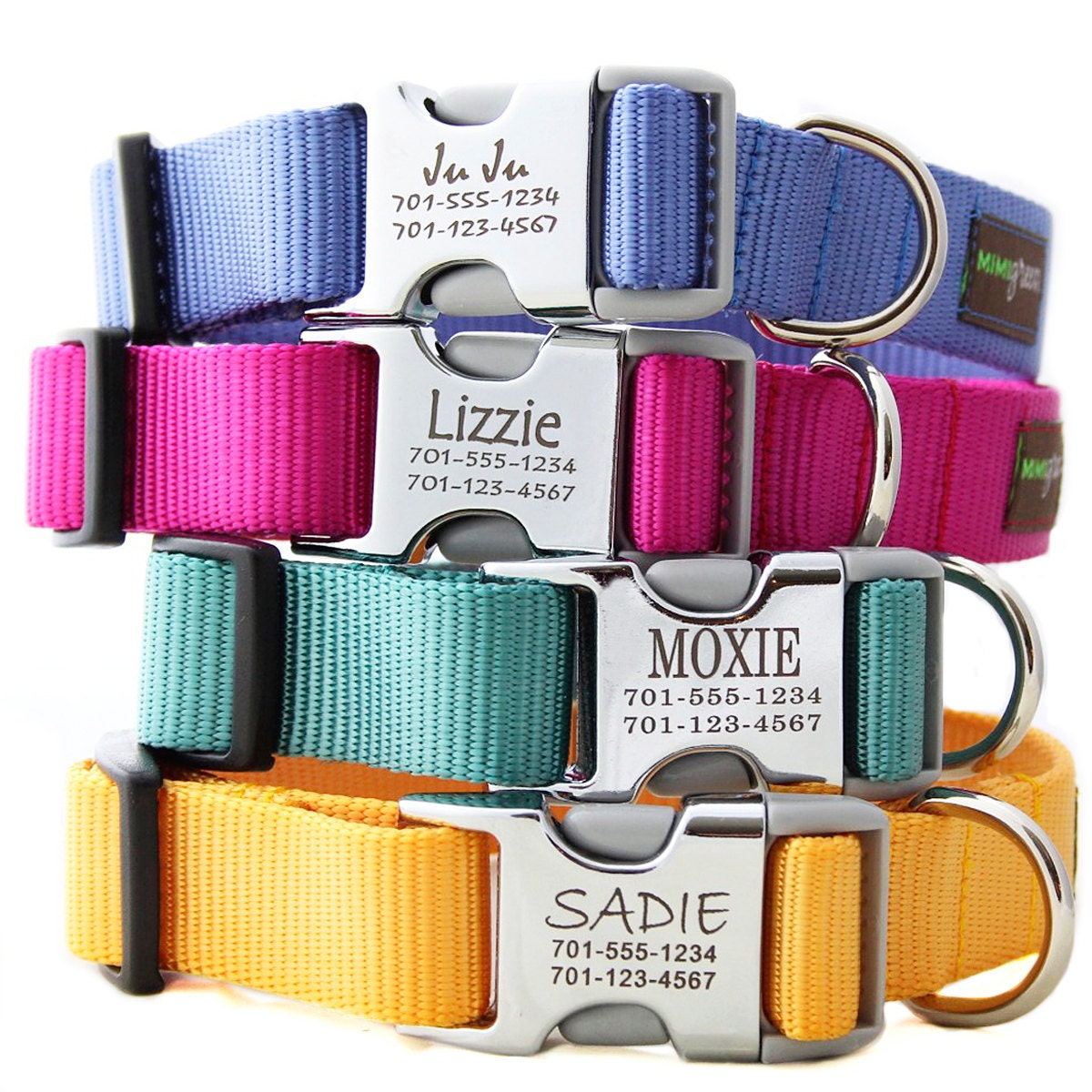 As with everything in life, there are things you simply don't need for your pet. Tempting though some of them may be, they don't serve a purpose for your pet. Your wallet will thank you for not buying them.
Pet Clothing

Unless your pet is very young, very old, or suffering a severe illness, chances are his natural coat of fur is keeping him nice and toasty. Small and/or short haired dogs may also benefit from a sweater in cooler weather, but this should be done at your discretion. If you live in the South, there's a good chance Lassie will be just fine.

Multiple Collars

Because we often think of our pets as our four-legged children, we tend to spoil them. Many people tend to buy their pets as many collars as there are days in a week. This is completely unnecessary. Your pet only needs one collar, with the exception of an added flea collar if needed.

Pet Insurance

As we mentioned above, an emergency fund can be a lifesaver when your pet is unexpectedly sick. I'm sure many of you have heard of pet insurance and wondered why we didn't recommend buying it rather than beginning an emergency fund.

Although pet insurance may come in handy for some situations, for most, it's really just not necessary. Many of these insurances don't cover things like dental care or hereditary diseases, and ones that do, often only cover a small percentage of what you'll be paying to treat your pet.
Times may be tough, and money may be tighter than ever, but Fido doesn't have to be sent away. I hope these tips help you keep your furbaby exactly where he belongs: on your lap and in your life. Do you have any money-saving, budget friendly pet tips we didn't list? Let us know in the comments below, and don't forget to share this guide with your friends and family.