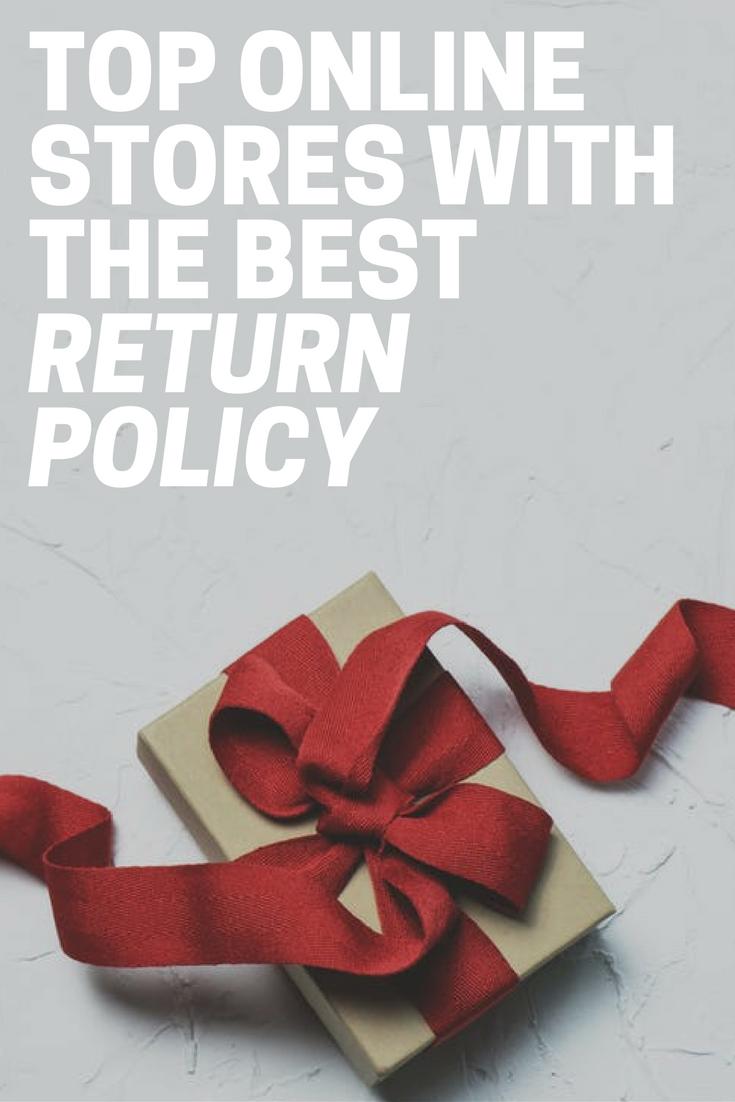 We are now past Christmas and into the new year, which means that retailers are dealing with a common issue: returns. Your aunt bought you a sweater that's too small. Your parents bought the kids those hot toys that you already bought them. Your husband thought you would like that ugly knickknack. Sound familiar?
While Christmas can be an exciting time for many people, it often leads to stress, especially when it comes to gifts. You don't want the unwanted item to take up space in your home, but are you allowed to take it back? What if the item was a gift and you don't have the receipt?
No two stores are exactly the same when it comes to return policies. Deciphering each retailer's complicated rules is enough to give you a headache. While some stores are strict when it comes to returns, there are many popular retailers that are the exact opposite. Some stores have generous policies allowing you to make returns after many months or even years.
Brick and mortar stores aren't the only ones with good return policies. Many online retailers are also quite lenient in this area. Read on to find out which online retailers go above and beyond and offer stores with best return policy practices.
Nordstrom
Nordstrom is well-known for its generous return policy. The department store allows you to return virtually any item that you purchase in store or online, regardless of condition or if you have original packaging. There is no time limit on purchases, so you can return or exchange the unwanted item days, weeks, months or even years later.
Some items may not be able to be returned, though, especially if they are special occasion dresses that have the tags off. Nordstrom works with each customer to determine whether or not a refund can be issued. The employees at Nordstrom will deal with this on a case-by-case basis.
If you do receive a refund, it will be through the original form of payment. You don't need a receipt, but it's helpful if you do. If Nordstrom cannot find a record of sale in their computer system, you'll receive a gift card for the current price of the item, which may be lower than the price you originally paid. Still, this merchandise credit is a lot more generous than most stores would offer without a receipt.
Another bonus: you can return items without even stepping foot into a Nordstrom store. The store offers free return shipping, which is extremely helpful for those with busy schedules or those who simply don't like crowds.
Bed Bath & Beyond
Bed Bath & Beyond is another retailer that has no time limits on returns. If you have a receipt, you can exchange the item or receive a full refund at any time after purchase. For those with a gift receipt, the two options available are an exchange or store merchandise credit.
If you don't have a receipt, a refund is still possible but it's a bit more complicated. Bed Bath & Beyond will look for the transaction in their computer system. If it can be found, you'll receive a full refund. If not, you can still exchange the item. You can also return it for the current selling price minus 20 percent. It might be best to take your credit card statement with you if you lack a receipt.
Note that there are some exceptions to the Bed Bath & Beyond return policy. For example, opened baby products and monogrammed items cannot be resold and therefore cannot be returned.
Kohl's
Kohl's is another department store with an excellent merchandise return policy. While it's not unlimited like Nordstrom or Bed Bath and Beyond, it does allow you to make returns for one year after purchase, which is better than the majority of retailers.
If you make online purchases or in-store purchases using your Kohl's credit card, you have 365 days from the date of purchase to return an item as long as you have the original receipt. The refund will be credited to the credit card used for the purchase originally.
If you have a gift receipt or used other forms of payment, you can make an even exchange or receive a Kohl's merchandise credit– as long as you still have your receipt.
If you don't have your receipt, you can still exchange or return your items, but the process is a little different.
If you used a Kohl's charge card, the store can look up the transaction and issue a credit to your credit card.
If you paid using a different method, you can exchange the item or receive a merchandise credit based on the lowest price of the item in the past 13 weeks.
Zappos
Online shoe retailer Zappos also boasts an excellent return policy. Like Kohl's, Zappos also gives you 365 days to return items. The company will also pay for the return shipping. However, the items must be unused, so don't try to wear them first and then initiate a return.
You will also need the original packaging, so if in doubt, don't throw away anything that comes in the original packaging before first making sure the items fit and you're satisfied with how they look on you.
REI
Outdoor retailer REI also allows returns for up to one year after purchase. This excludes items damaged by the consumer and items that have normal wear and tear. Also, electronics must be returned within 90 days. Items with manufacturer defects can be returned at any time.
Whether you purchase the item online or not, you can return it by mail or in store with a valid proof of purchase (receipt or packing slip). If you don't have either, initiate your return in store and the store staff can look up your transaction if you're an REI member. If you are not a member and don't have a receipt, you may not be able to return your item, so keep this in mind. Having proof of purchase is key to getting a cash refund or merchandise credit of equal value.
Macy's
The return policy has recently changed at Macy's. The department store once had few limits on exchanges and returns, but made some changes after customers abused the policy. Its current return policy is still very generous though, allowing you to make returns within 180 days after purchase.
Even if you don't have a receipt, you can still return most items. You won't receive a full refund, though. You will instead receive a store merchandise credit for the lowest price of the item in the past 180 days.
There are some exceptions, however:
Last Act and Locker Room by Lids items must be returned within 30 days of purchase.
You have only 14 days to return designer brands and Apple smartphones.
Dresses must be returned within 60 days.
Jewelry and watches must be returned within 30 days.
Area rugs must be returned within seven days and must be in unused condition.
You have 60 days to return personal care items and small electronics.
Lands' End
The return policy for Lands' End is one of the best ever, and it's pretty simple: return any item at any time for an exchange or refund. That's it. No exceptions or time limits apply. So if you bought an item 10 years ago, wore it and still have the receipt, you can return it.
For best results, however, you do need a receipt. Refunds are issued to the form of payment. If you have a receipt and purchased the item at least nine months ago, you will receive a cash refund check. If you don't have a receipt, you will receive a refund in the form of a store credit gift card based on the item's lowest price. This makes it easy, regardless of if you used a debit card, credit card, or some other form of payment originally.
LL Bean
L.L. Bean "didn't consider a sale complete until goods are worn out and the customer still satisfied." Therefore, L.L. Bean's return policy is similar to that of Land's End. It will take back any item in any condition at any time after purchase. So even if you've worn out a jacket or shoes, don't throw it away. Take it back to L.L. Bean and exchange them for a store credit or get a refund. For added convenience, you can also exchange or return items by mail.
Many people have abused L.L. Bean's legendary policy, though. They have bought L.L. Bean items at garage sales and then attempted to return them at the store. The store does not condone this policy and will refuse to allow returns on items that have not been originally purchased at the store.
The store will also not allow returns on items lost or damaged in natural disasters or by pets. Items that have been soiled, contaminated or defaced also cannot be returned. The store also reserves the right to decline exchanges or returns in other situations as well which will be evaluated on a case-by-case basis.
Caveats and Considerations
While these are some of the stores with best return policy options, there are lots of considerations to make before hitting the overwhelming returns and exchanges queue. Double check that your online purchases can be returned in the same manner as your in-store purchases, as policies frequently change. Different stores also have a specific holiday return policy that may be hidden in the fine print of your purchase and will only offer a store credit rather than a full cash refund.
You may not receive the full purchase price as the business may charge a re-stocking fee. This restocking charge is to cover the labor required to process your transaction. In the technological age, not many places will do a cash refund if you paid by credit card or debit card. Just be sure to keep your packing slip and original receipt to make things run as smoothly as possible.
Taking receipts or incentives to process an invalid return may be a direct violation of the company's anti-corruption policy, so be nice to the employees!
Being a member of the store's loyalty program or having a store-branded credit card, like a Target Redcard for example, may make it easier to conduct returns and exchanges and receive the original selling price for items purchased. Again, this is a generalized statement and may vary on a case-by-case basis.
Returning Items is Hassle-Free
We have enough to worry about in our busy lives, and returns shouldn't be on our minds. When you shop at the stores listed above, you don't have to stress out about when to return an item or even wonder if the store will return an item.
Whether you received a gift you don't like, changed your mind about an item you bought or had a child grow out of an outfit too quickly, you can rest assured knowing that these online stores will allow you to take the item back and receive your money back or a store credit at the very least. When customers know that they can always change their mind after purchase, they are more likely to spend money, and this helps the economy.
So, go return that weird gift from your zany aunt and take your cash to Trader Joe's, Sam's Club, Dick's Sporting Goods, or whichever place you like best to buy something you really need or want.
Sources: