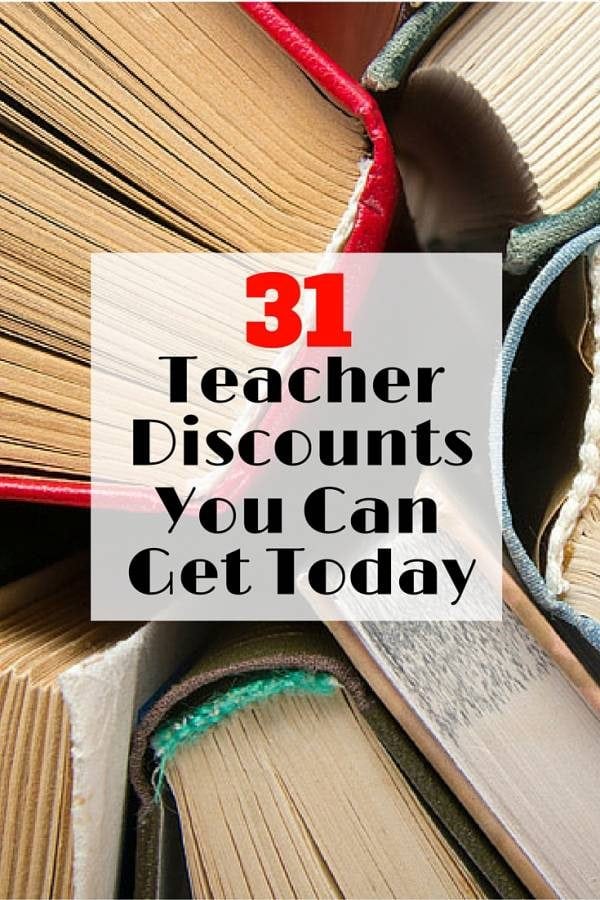 Devoted teachers are truly some of the most amazing professionals in the world; often they take money out of their own pocket to ensure that their students have everything they need, whether it's an extra notebook or supplies required to teach certain concepts. With practically non-existent budgets in a huge number of the nation's schools, teachers need to get as many discounts as they can. Below are 31 discounts that teachers can take advantage of today.
Cash Back Offers
1. Ebates
I'm a big fan of Ebates. It's for everyone and not only for teachers. I mention it here because it's a super easy way to find coupon codes and earn cash back on every purchase made online including school supplies! Since I started shopping online few years ago, I made $62,430 cash back! Yup, that's cash! In addition to my review, I also wrote few more articles about Ebates here (includes a screenshot of my $62,430 cash back for the doubters who may think it's a scam).
2. Extra $$
Teachers are not getting paid enough. That's a fact! So if you're looking for ways to make few extra bucks from home or you want ideas on how to trim your budget then you'll want to read my most popular post 99+ Ways to Save $400 / month. Tons of quick actionable ideas for you to do today.
Classroom Supply Discounts
1. The Scholastic Teacher's Store
Teachers receive a 25% discount off the list price of books, up to 40% off the list price of teacher resources and instructional reading and writing materials, and 25% off of school supplies through the Scholastic Teacher's Store. Shopping can be done online, although teacher credentials must be verified before discounts are given.
2. Raymond Geddes
Raymond Geddes offers great discounts and sales for teachers and educators (and others), including the Back to School Ordering Program. With this program, teachers who order more than $150 worth of supplies receive free shipping, plus the convenience of having their orders in early. Raymond Geddes also offers additional discounts for educators.
3. Discount School Supply
Discount School Supply is a discount store which offers incredible deals on school supplies for teachers and educators. Orders over $99 are eligible for free shipping, and this company offers regular discounts on a variety of items, from craft supplies to writing instruments and more. In addition, they offer a 110% low price guarantee. If any other school supply store is found to have a lower price, Discount School Supply will match the price and offer an additional 10% off the difference.
4. Classroom Direct
Created specifically for teachers and educators, School Specialty Direct offers school supplies and other items at a discounted price than regular retail stores. They also offer a clearance section where educators can save up to 90% off of select items. They frequently offer even higher percentages off for certain items, and orders over $49 are shipped free.
5. Discount Educational Supply
Similar to the other stores in this category, Discount Educational Supply offers school and classroom supplies at a discounted rate for teachers and educators. They also have a Sales and Specials area where teachers can find extra discounts on items they need.
6. Michael's
Michael's carries a large variety of school and art supplies and offers 15% off for educators on items designed for the classroom. This discount is only available, however, during in-store purchases. Teachers simply need to see a sales associate for details on the process.
7. Staples
Staples offers discounts for teachers as well, although it works a little differently. When teachers shop, they receive 5% back in rewards, and 10% back in rewards for teaching and art supplies. In addition, they receive free shipping for all online orders.
Book Discounts
8. Books-A-Million
For teachers who need to pick up books, Books-A-Million offers a fantastic discount: 20% off on selected book purchases. Teachers simply need to visit the store to receive the discount and ask for the BAM! Educator Discount Card application. They will need to show their valid educator and photo identification cards in order to receive the discount. Teachers can use the BAM card to avail of discounts online as well as in physical stores.
9. Barnes & Noble
Barnes & Noble also offers an educator discount of 20% on most books, and it increases to 25% on educator appreciation days. With this membership, teachers will also receive information on planned educator events and additional discounts offered by the company.
10. Thrift Books
Stocking the classroom library is certainly easier with discounted books, and Thrift Books understands this. Since the books available here are used and already available at a lower price than new books, teachers can get a serious deal. This is the perfect place to purchase book sets (20 or more copies of an individual ISBN). Teachers simply need to purchase 20 or more of the same book and enter the code APPLE at checkout to receive a 15% discount.
11. Third Place Books
Third Place Books offers a 20% discount on books to teachers and librarians. These professionals must have their name entered into the database by showing their cashier a recent pay stub, an active union card or an educator identification card. They can then order books by emailing a complete list of the books needed (including title, author and ISBN) and picking the books up when the order is ready. Or, they can visit the store to shop for needed books or place orders through their school or company's purchasing department.
12. A to Z Teacher Stuff
A to Z Teacher Stuff, formerly Teacher Ebooks Now, offers a great number of discounts and deals for teachers. Not only do they have free downloadable ebooks, but they also have discounted ebooks each day that teachers can grab at super low rates. There are no shipping fees and products purchased can be downloaded immediately and used in the classroom.
Computer, Communication and Tech Discounts
13. Adobe
Adobe offers discounts for teachers whether they are shopping for home products or products for the classroom. In addition to that, they have various licensing options tailored to different institutions.
14. Verizon
Verizon offers discounts to various professionals, including those in the field of education. In fact, teachers can get an 18% discount (depending upon location) on their monthly cell phone bills. Requirements include providing proof of an education or institution identification card.
15. AT&T
AT&T will offer up to 15% off the monthly cell phone bills of teachers and other educators. Individuals will be required to provide proof of employment with a specific school or institution.
16. Sprint
Sprint also offers discounts on monthly cell phone bills for educators; typically between 15 and 18%. Individuals simply need to enter their information in the Sprint Discount Program page to determine whether they are eligible for savings.
17. Lenovo
Lenovo offers various discounts for students and teachers on laptops, desktops, and tablets. In order to find the available discounts, teachers simply need to visit the Lenovo Teacher Discount Program page (which offers discounts for teachers as well) and put in their information.
18. Dell
Dell offers a wide variety of discounts not only for college students, but also for faculty members. To determine what sorts of discounts are available, educators simply need to enter their information into the Dell University Teacher page.
19. PBS
Teachers can receive a 10% discount on educational media to use for the classroom through PBS. In addition to the 10% discount, PBS offers various other discounts on select media.
Miscellaneous Teacher Discounts
Some teacher discounts aren't just for items used in the classroom or directly related to an educator's job. These amazing individuals do so much, they certainly deserve a little extra help here and there, and the following companies provide that to them.
20. The Art Institute of Chicago
Teachers in the Chicago area can take advantage of free admission into the Art Institute of Chicago, and this benefit is available to homeschooling parents as well. In order to take advantage of this deal, individuals must register via the Education Network page.
21. US Department of Housing and Urban Development
Certain professionals interested in purchasing a home in certain revitalization areas can receive a huge discount (50% off the listing price of a home) through the Good Neighbor Next Door Program. These professionals include teachers, law enforcement officers, firefighters and emergency medical technicians.
22. Pets in the Classroom
For teachers who are interested in having a pet in the classroom to enrich the learning experience, Pets in the Classroom can help. For certain teachers who meet qualifications, they will refund the price of the pet up to $150. Teachers simply fill out the application and send it in, and will receive a reply within 3-4 weeks.
23. Museum of Science, Boston
Educators who sign up for the Teacher Partner Program through the Museum of Science in Boston can receive special discounts on workshops, store purchases and more. They also receive access to all of the museum's educator resources. With this membership, teachers receive 10% off of purchases in the in the store, $10 off a new museum membership, free pre-field trip passes to certain exhibits and more.
24. LEGOLAND Florida Resort
Florida K-12 teachers can receive a free Florida Teacher Pass, which allows them free admission into the LEGOLAND Florida Resort, The Orlando Eye, Madame Tussaud's, and the SEA LIFE Aquarium. In order to take advantage of the Florida Teacher Pass, teachers simply bring a printout of the discount page, a valid professional or temporary FDOE teaching certification, a recent pay stub and a Florida identification card to any of the attractions above.
25. Graceland, Tennessee
Teachers who are interested in touring Graceland, the home of Elvis Presley, can do so absolutely for free. Teachers of kindergarten through the 12th grade simply need to present their school ID, a dated letter on a school letterhead stating that they are a K-12 teacher at the school, or a recent check stub along with a valid photo ID to receive a free premium tour ticket.
26. Student Universe
Teachers and educators can receive large discounts on travel through Student Universe, an online flight-booking website. Simply visit the website and put in the flight destination information to learn which discounts are available and how much can be saved.
27. National Geographic
National Geographic offers a slew of resources and benefits for educators, including the educator discount, which includes digital subscriptions for just $1. They also offer the National Geographic Education Site, which contains a wide variety of multimedia learning tools, games, videos and photos, all designed to enrich learning. These materials are free for educators to use.
28. Preferred Hotels & Resorts
Teachers and educators can enjoy a wonderful advantage at Preferred Hotels & Spas all over the country. This includes a 20% discount off of the best available rate as well as a special amenity. Teachers can find a Preferred Hotel & Spa location by checking the website.
29. Educators Travel Network
The Educators Travel Network is a network of teachers, librarians, coaches, school nurses, counselors, etc. who can find discounted and affordable lodging and travel necessities. With more than 7,500 locations worldwide, educators can locate homes or play host to other educators traveling within the area. In addition, they can earn ETN reward dollars for additional future travel.
30. Vacations To Go
Teachers who are planning a vacation can enjoy special discounted rates from Vacations To Go, the world's largest cruise agency. The discounts are available for retired and active teachers and individuals can see which locations and discounts are available by visiting the website.
31. National Park Service
The National Park Service (NPS) offers a great discount for teachers; 15% off park purchases. They also offer teachers the option of borrowing park educational materials in some locations. While the discount does not apply to the park entry fee, it can help teachers save some money when purchasing souvenirs or memorabilia.
These amazing discounts are well-deserved, as teachers are our children's guides into a world of learning, fulfillment and wonder. We're extremely happy to be able to highlight some of the great companies who offer discounts to educators both for classroom and personal items, experiences and services. If you know of a teacher discount we missed, please share it in the comments below so educators everywhere can benefit!