Here's to an frugal and organized 2015!
Your FREE personal organizer (that's me!) is here to help you get off to an organized start in 2015! If your new year's resolution has anything to do with saving money or getting organized, The Budget Diet girl is here to help! Get started with this January to-do list.
Save Money!
A new year is the perfect time to take a look at your financial situation, and update your budget! If you don't have a written household budget, try my budget basics! It's a simple fill in the blank worksheet, so you'll know exactly how much you have left to spend on food and fun! If your new year's resolution is to save money, you don't want to miss these articles. Even if you've read them before, read them again…a little refresher never hurt anyone!
Get Organized!
Wouldn't it be wonderful if you could wave a magic wand, and all your Christmas decorations would be put away, nice and neat, labeled and ready for next year? There's no magic wand, but you can save yourself a lot of time by organizing your decorations as you put them away. Follow these three simple rules for putting away Christmas decorations:
Use clear plastic bins and label clearly!
Roll each strand of lights and put in a plastic grocery bag to prevent tangling.
Make a box of decorations that you no longer want and drop them off at Goodwill.
Save Time and Money
Delegate, delegate, delegate! Let this be your motto for 2015, and you'll enjoy more free time!
Let's start by delegating some of your housework! Our family tradition is to hold a chore lottery on New Year's day. I come up with a list of chores, write each one on a scrap of paper, put the scraps of paper in a jar & let the children choose their chores for the year. Here's a list of chores that my children have been helping me with for years.
How would you like to take a night off from cooking? Let your children do the cooking (and cleaning) and enjoy your night off. It's a great way for your kids to learn to cook!
Christmas Receipts and Instruction Books
Take a moment to staple your receipts to instruction books for toys, electronics or any gadget that has a warranty. Next, put them in your file cabinet in a folder labeled "warranties", so you'll know exactly where to find then when something is broken. If you need to tackle your file cabinet chaos, take a look at these file cabinet organization tips.
Check Your Calendar
Any birthdays, anniversaries or parties this month? If you plan ahead, you'll save money!
Shopping Calendar
Thanks to the folks at FreeShipping.org for sharing their Best Time to Buy Guide! January is one of those months when retailers are clearing out, so take advantage of the savings if you need:
Big Appliances
Bicycles
Calendars
Carpet and Flooring
Furniture
Linens and Bedding
Office Furniture
Outdoor Gear
Suits
Video Games
Wrapping Paper
January is also a great month to Sell Your Gift Cards For Cash at Cardpool.com!
! Did you know that according to the USA Today, 30% of Americans still have gift cards that are over a year old?
Still need more help?
ListPlanIt.com has hundreds of printable lists to help you get organized and stay organized! Take advantage of their free 30-day trial or check out their new e-book "100 Days of a New Year" with daily tips and tasks to make 2015 your most organized ever!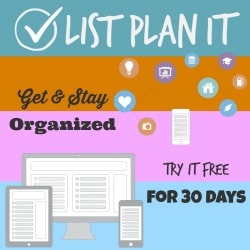 Your free personal organizer, aka The Budget Diet girl, is always at your service with tips to help you keep your new year's resolution!
~~~~~~~
image courtesy of Stuart Miles, FreeDigitalPhotos.net
~~~~~~~
In full disclosure, this post contains affiliate links to help support The Budget Diet girl!