You've seen plenty of elegant hairstyles but you're on a tight budget and you're of course dealing with tangles! Solve it naturally with this all-natural hair creme – homemade creamy shea butter. It helps moisturize, soften and keep the hair shiny everyday. Made from 100% shea butter and various types of oil that is pure and healthy, this homemade shea butter is a great addition to your beauty collection. If you want to add one more all-natural beauty product, then let's begin.
What you need:
Shea butter
4 tbps of Coconut oil
1 tbsp of Almond oil
1 tbsp of Castor oil
1 tsp of Jojoba oil
1 tsp of Rosemary oil
1 tsp of Lavender oil
Glass containers with tight lid
Tablespoon and teaspoon
Large bowl
In a large bowl, place the shea butter, coconut oil, almond oil, castor oil and jojoba oil. Then, add rosemary oil and lavender oil to add sweet smell to your shea butter.
If you placed all the ingredients, time to whip it up. Use blender to blend the ingredients well. Mix it until you reach a creamy and smooth texture.
Once done, get your containers ready. Scoop a spoonful of the shea butter and place it on your container.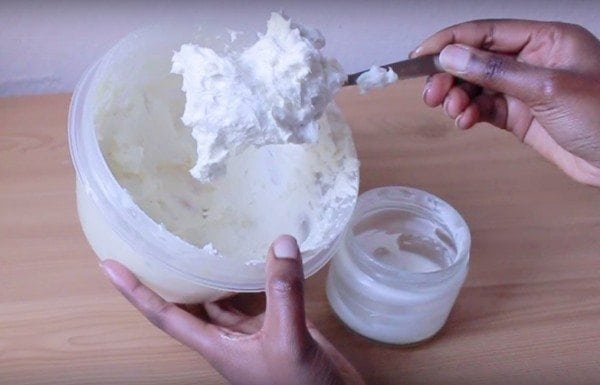 And you are done! So simple, easy and quick. Homemade creamy shea butter to keep hair healthier and shinier the natural way.
Watch How it is Done