Thanksgiving will never be complete without these delicious and long-awaited Thanksgiving pies on your dessert table. Find easy-to-follow pie recipes for your ultimate favorite Thanksgiving pies – banana, cranberry, lemon and pumpkin – that will complete your holiday festivities. These pies will surely put a happy and tasty ending to your Thanksgiving Day.
1. Pumpkin Pie
Mixed with cheese cake, this pumpkin pie is super creamy with a tangy flavor. The perfect pie for one satisfying Thanksgiving meal. Click here for recipe.
2. Cranberry Apple Slab Pie
Apple and cranberries underneath the sweet oatmeal crumble – an ideal pie for the crowd. Click here for recipe.
3. Butternut Squash Pie
With its creamy texture and sweet squash flavor, this will surely please your guests and ask how you did it. Click here for the recipe and have a taste of this mouthwatering pie.
4. Pumpkin Pie with Oat-Pecan Crust
Another pumpkin pie in the list topped with pecan. Pump up your Thanksgiving with this super delicious pie. Click here for recipe.
5. Mocha Cream Pie
Make the after-dinner sweeter with this tantalizing mocha cream pie. Satisfy your sweet tooth! Click here for recipe.
6. Chocolate Banana Pie
Chocolate and vanilla cream crust, layer of sliced bananas, topped with chocolate cream – this is the perfect treat this Thanksgiving day. Click here for recipe.
7. Coconut Cream Pie
Topped with whipped cream, this pie is extra special and will absolutely please your guests. Click here for recipe.
8. Vanilla Cream Pie
The pie that has all the cream pie recipes into one. A delicious treat you can make under 60 minutes. Click here for recipe.
9. Pear Crumb Pie
Pears and cranberries mixed to create a flavorful pie that guests won't easily forget. Complete your Thanksgiving dinner with this dessert! Click here for recipe.
10. Lemon Icebox Pie
A no-bake pie that family and friends will surely adore. It is topped with mint leaves and whipped cream. Click here for recipe.
11. Cranberry Pie
With only 6 ingredients, you can make this lovely pie for one fulfilling Thanksgiving feast. Click here for recipe.
12. Sweet Potato Pie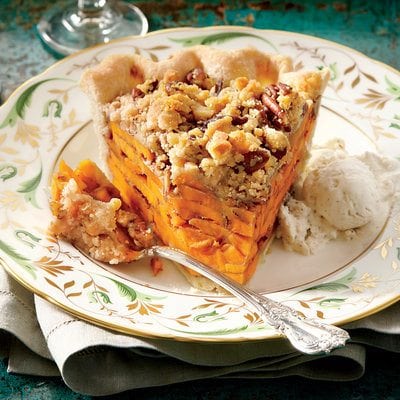 Sweet potato in a yummy-looking layered pie. Click here for recipe and add this to your dessert table.
13. Blackberry-Apple Pie
Berry and apple in Cheddar cheese crust brings a fruity and yummy treat on your table. Click here for recipe.
14. Pecan Cheesecake Pie
A creamy and super delicious pie with chopped pecans giving it a nutty topping. Click here for recipe and have a slice of its heavenly taste.